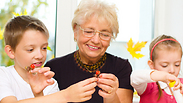 File photo
Photo: Shutterstock
Bat Yam is the city with the highest rate of senior citizens in Israel (20.5%), and Beitar Illit has the lowest (0.8%), according to the annual statistics related to the elderly in Israel as prepared by the organizations Mashav and JDC Israel Eshel (the Association for the Planning and Development of Services for the Aged).

According to their research, in 2014 the number of senior citizens in Israel rose above 900,000 for the first time, with their rate of growth double that of other segments of the population. In 1955, those above the age of 65 were only 4.8% of the population, and they today are 10.8%. A majority of the elderly (56%) are women.

A particularly worrying datum from the study is the relative number of the elderly to people of working age (20–64). While in 1960, there 97 senior citizens for every 1,000 persons of working age, today that number is 204 per thousand.

The average monthly household income for those homes that include a senior citizen was NIS 13,419 in 2014, versus NIS 18,329 for the general population. According to the data, only 44% of senior citizens in 2014 received payments from a pay-as-you-go pension from their place of work at an average amount of NIS 5,911. At the same time, 22% of recipients of state pensions also required supplemental income assistance from the state.

According to projections, by 2020, the number of elderly in the population is expected to surpass 12%, and by 2035 will be %15.

Eshel's CEO, Yossi Heiman, said, "In our strategic planning for the coming decade, we've decided to try to make the country take responsibility for the retirement process. That means that cities with high rates of the elderly will have the burden of their care fall on the (local) authority, and that has economic implications."

In second place after Bat Yam was Kiryat Yam with 20% of its population being aged 65 or older, and Haifa is in third place (19.6%). Unsurprisingly, ultra-Orthodox cities populate the bottom of the list due to the high birth rate in the sector. The penultimate place on the list (just above Beitar Illit) is Modi'in Illit (0.8%) and the antepenultimate place is held by Elad (1.2%).

As for the other large cities in the country, Tel Aviv is in 22nd place with 14.9% senior citizens, followed by Petah Tikva at 14.5%. Be'er Sheva is in 27th with 14.1%, and Jerusalem is in 72nd place with 8.7%.
The oldest cities:
Bat Yam (20.5%)
Kiryat Yam (20%)
Haifa (19.6%)
Kiryat Motzkin (19.3%)
Omer (18.3%)

The youngest cities:
Modi'in Illit (0.8%)
Elad (1.2%)
Segev Shalom (1.5%)
Kochav Ya'akov (1.5%)
Arara (1.5%)