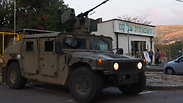 IDF soldier injured by fire opened from Lebanon
Shots fired by passing vehicle on the other side of the border, prompting soldiers to return fire; soldier taken to hospital in light condition after having sustained shrapnel wounds to the hand; forces sent to the scene later spotted the vehicle and engaged in a second exchange of fire.
An IDF soldier was lightly injured after live rounds were fired from Lebanon at IDF forces in the Metula area in northern Israel Wednesday afternoon.
The shots were suddenly fired from a light weapon while forces were carrying out work on the northern security fence, prompting the soldiers to return fire.
The injured soldier sustained light shrapnel wounds to the hand and received first aid treatment at the scene before being evacuated to hospital.
The IDF clarified that there was no crossing of the border while the Lebanese army altogether denied that gunshots had been fired from a passing vehicle from its territory at Israeli soldiers.
It was later reported that IDF forces once again spotted the vehicle and began firing upon it before shots were returned in their direction.
The incident comes less than 24 hours after 15-year-old Nimer Bassem Abu Amar—a contractor working for the defense ministry—was killed after sustaining a single gunshot wound while carrying out reinforcement work on the fence on the Israel-Egypt border.