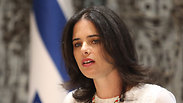 Justice Minister Ayelet Shaked
Photo: Gil Yohanan
Justice Minister Ayelet Shaked determined on Wednesday that "the attorney general has no power of veto over laws," asserting that only the public's elected representatives should make decisions on legislation.

Attorney General Avichai Mandelblit is deliberating on the impending evacuation of the illegal outpost of Amona, scheduled for December. Meanwhile, legislators on the right are trying to pass a bill that would legalize Amona and other similar outposts. Mandelblit opposes the proposed legislation, saying it is unconstitutional.

"The legal consulting (provided by the attorney general) is akin to the relationship between an attorney and his client. At the end of the day, the one making the decision should be an elected representative," Shaked said at the conference on the role of the attorney general.

The justice minister contended that the attorney general's role "is to be an advisor, not a decision-maker" like the prime minister, the government and the members of Knesset. "We at the Ministerial Committee for Legislation will make the decision in a professional manner."

Shaked explained that "when it comes to legislation, there is no such thing as veto power, because the Knesset is the authority that should make the decision."

She went on to recount " instances in which the attorney general's team thought there were (legal) difficulties, and despite that we passed (the law), such as the application of the foster care law on Judea and Samaria, or a law allowing to sue the Palestinian Authority for its involvement in terrorism."

"We consult, but in the end the authority belongs to the legislator," Shaked emphasized.

She did note that "When it comes to administrative decisions, if the attorney general says there is a legal impediment, we obviously don't pass the decision."