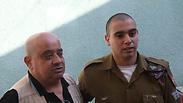 Sgt. Elor Azaria with his father Charlie
Photo: Motti Kimchi
A witness told the military court in Jaffa on Wednesday that Sgt. Elor Azaria's lawyer asked him to testify on behalf of his client by sending him a text message that read, "Can you help me destroy the brigade commander?"
"God forbid, I didn't want to do such a thing," said Yoni Bleichberd, a military security coordinator from a Jewish settlement in Hebron, who was testifying on behalf of the defense.
Bleichberd told the court that he did not want to testify and that he had repeatedly rejected what he described as "impolite" requests to do so by Azaria's lawyer Eyal Beserglick.
Beserglick responded to the the apparent distraction from the central focus of the case. "Obviously this was terminology referring to undermining the reliability of the brigade commander," he emphasized.
Sgt. Azaria is facing manslaughter charges after he shot to death a seriously wounded Palestinian terrorist, Abed al Fatah al-Sharif, in Hebron.
In his testimony, Bleichberd corroborated the account of events put forth by the defense that the terrorist was moving while lying on the ground and described the overall climate of confusion prevailing at the scene of the attack. "The whole area was a mess. This was something that we are not used to. I am not the chief of staff but I was in many incident like this," he said. "The conduct was correct. From our point of view, any fear of a device exploding was over (after Azaria shot)."
"I saw the terrorist with a black jacket moving. I amended my report, saying one of the terrorists was alive and then there was shooting. I reported this as justified fire."
The statement appeared to contradict the conclusions drawn by former Yehuda Brigade commander, Col. Yariv Ben-Ezra, in June against Azaria. "The shooting was unjustified because it happened in a situation in which there was no mortal danger," Ben-Ezra told the court at the time.
So far, the court has heard testimony from senior ranking IDF and security officials, some of whom have heaped harsh criticism on those who they accuse of having abandoned Azaria in a concerted effort to absolve themselves of any responsibility for his actions.
Weisman continued to mention other text messages sent by the defense lawyer. "The lawyer told you in a message that he would have you court ordered if you didn't come and you told him that if that happens you would cause a commotion. You wrote back that 'even if they get me there I won't speak.'"
Bleichberd responded: "I am not committed to the court and not to anyone except my wife and children. I did all I could in order not to come and I said 'tell them I extended my travels abroad' even though I didn't. I am against the attempt to turn me into a state liar."
Bleichberd then contended that the testimony of the brigade commander had been riddled with contradictions. "At the time of the shooting I was standing next to Azaria—maybe a meter and a half away from him. Col. Yariv Ben-Ezra arrived, I gave him a situation report and told him that the two terrorists were not killed at the same time but rather one was at the beginning and the second—the one with the explosive device—was killed a few minutes later. This way if a video of the incident came out, he would know that the two terrorists were not killed at the same time so that he would not be humiliated."
He maintained that had the situation been handled more appropriately to begin with, the entire incident would not have occurred. "A live terrorist is something frightening. I confess that is it is extremely scary. It isn't nice. A terrorist ready to die will do anything to take with him as many civilians and innocents as possible."