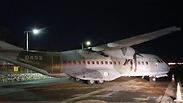 The Fijian president lands in Israel
Fijian President George Konrote was forced to land his plane in Eilat while on his way to Sharm el-Sheikh due to the hostile weather conditions in the region on Thursday night.

He was on his way to visit Fijian soldiers serving in the Multi-national Force and Observers mission (MFO) in the Egyptian town of Sharm el-Sheikh.

The Fijian president's plane lands in Eilat (צילום: דוברות רש"ת)

The president and his entourage were in the air above Sinai when the pilot contacted the tower in Eilat and requested to land.


The entourage included some 20 people, and was met at the airport by the head of the Eilat Airport.

"The president and his entourage were received in accordance with their status and were referred to a hotel in Eilat," the Airport Authority said in a statement.

The MFO is an international force which oversees that the terms and conditions of the Israel-Egypt peace treaty are being followed, and operates primarily in the Sinai Peninsula.