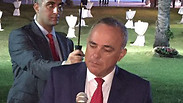 Israeli Energy Minister Yuval Steinitz is the first Israeli minister to visit the home of the Turkish Ambassador to Israel since the Mavi Marmara incident in 2010, which deepened already fragile rifts between the two countries.

Steinitz paid the visit to the ambassador's home as of celebrations for Turkey's Republic Day.

Approximately 100 people were invited to join in the festivities, amongst them Turks who made Aliyah to Israel, businesspeople, and diplomats.

Steinitz praised the renewed diplomatic friendship, saying that "the fact that Israel and Turkey are reaching out a hand of peace and cooperation again is important news. Today is evidence that Israel and Turkey not only want to re-establish diplomatic and formal relations, but strengthen economic ties and cooperation in the field of energy. This includes exporting gas from Israel to Turkey, and from Turkey to the rest of Europe. I hope that in the future, this will lead to a strengthening of trust, security cooperation, and political cooperation between the two countries."

The Commissioner of the Turkish Embassy, Jem Tukan, read out a greeting from Turkish President Recep Tayyip Erdogan which talked about Turkey's strength and promised that enemies of the state would not be able to subdue it.

Steinitz himself returned from Turkey two weeks ago after meeting with the Turkish Energy Minister, where the two spoke about building a gas pipeline between Israel and Turkey.

The discussions between the two countries are said to have progressed well, with both deciding to hold working groups in each country that will discuss the details of how the pipeline will work. Among other things, they also spoke about geo-strategic and security issues.