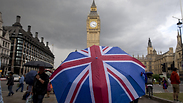 An event held in the British House of Lords has caused outrage in Britain and among its Jewish community after a series of anti-Semitic remarks were made, including accusations that Jews brought on the Holocaust.

The event, which took place in the upper legislative chamber, was organized and hosted by Baroness Jenny Tonge—a figure known for her vociferous opposition to Israel—and the Palestine Return Council (PRC).

Among other things, participants called on the British government to issue an apology for the 1917 Balfour Declaration which committed the government to the creation of a Jewish state in Ottoman-ruled Palestine.

Three years ago, former Prime Minister David Cameron rejected a similar attempt to solicit a retroactive apology from the British government and his successor, Prime Minister Theresa May—who has already demonstrated herself to be ardently pro-Jewish and a friend of Israel—is expected to follow suit without further discussion.

It took little time before the inflammatory meeting descended into an Israel-bashing spectacle which included overtly anti-Semitic slurs. For example, one speaker claimed that "if anybody is anti-Semitic, it's the Israelis themselves" a comment which received applause from those in attendance and from Baroness Tonge.

Another speaker told listeners that the Jews were responsible for the Holocaust and brought it on themselves, a statement which also managed to bring about a round of applause.

According to one individual present at the meeting, Tonge herself revealed her conspiratorial analysis of Zionism, warning her audience that there were "Zionist ears in the room" and urging speakers to watch their words while failing to issue a categorical condemnation of the unambiguous anti-Semitism.

Notably present at the meeting were members of the Neturei Karta, a group of radical ultra-orthodox Jews with an ideology vehemently opposed to Zionism and Israel's existence.

Among their many affronts to Israelis and Jews alike, delegates from the group attended a Holocaust denial conference in Iran several years ago.

During the House of Lord's event, they compared the State of Israel to ISIS and even said that the Holocaust was a Zionist invention.

The Israeli embassy in London condemned the meeting, with one official describing it as a shameful event which "gave voice to racist tropes against Jews and Israelis alike."

Tonge was subsequently suspended from the Liberal Democrats Party. However, her permanent membership as peer in the House of Lords remains unchanged.