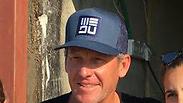 Armstrong on Friday
Photo: OR Movement
Legendary American cyclist Lance Amstrong, who came to visit Israel this week, toured the Gaza border region on Friday, where he met with the IDF's Gaza Division commander, Brig. Gen. Yehuda Fox, and even stepped inside one of the Hamas tunnels in Israeli territory that were uncovered during Operation Protective Edge .

Fox gave Armstrong a security assessment of the area. The tunnel was in the Eshkol Regional Council.

Roni Flamer, the CEO and co-founder of the OR movement, which escorted Armstrong on his visit, said that the cyclist and the group that he was travelling with came to the area to learn about the situation there and to express solidarity with Israel on the southern border. Amstrong, whose group was brought by the businessman and philanthropist Martin Franklin, also visited the Ramon Crater this week, where he went on a 36-kilometer cycle.

Up until a few years ago, Armstrong was considered one of history's greatest competitive cyclists, having won the Tour de France seven times after having overcome advanced testicular cancer.

However, it came to light in 2012 that Armstrong had been using forbidden, performance-enhancing drugs that entire time, and his winning titles were stripped of him. He only admitted to having doped in 2013 after years of rumors.