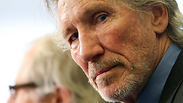 After a decade of being one of Israel's harshest critics in terms of policies in the territories, it is possible that it is starting to financially impact Roger Waters himself.

According to a "Page Six" report, companies and potential sponsors of the musician's upcoming tour are avoiding working with him over his views on Israel.

According to its website, American Express recently recoiled from a $4 million investment in Waters' upcoming 2017 concerts, after it sponsored the "Desert Trip" festival held in the United States, which rock legends Bob Dyland, Paul McCartney, Neil Young, the Rolling Stones and Waters himself.

The former Pink Floyd man took the tour as an opportunity to lash out at Republican presidential candidate Donald Trump and, as usual, to express support and solidarity with pro-Palestinian student activists and boycott movements against Israel to "urge the government of Israel to end the occupation."

In response to the reports, officials from American Express said, "The company was asked to pay $ 4 million in expenses for the tour, but changed its mind because it did not want to be part of his anti-Israel discourse."

A spokesman for the company added, "We never committed to sponsor Waters' upcoming performances. After they came to us with an offer, we decided to pass and did not present a counteroffer."

A spokesman for Waters declined to comment, but the singer himself said recently: "I have been accused of being a Nazi and anti-Semitic for the past ten years. The music industry shrinks even at the prospect of raising its voice. I talked to many of them, all very afraid. If they say something publicly, they won't have a career anymore, they will be completely ruined."

It should be noted that many international artists have spoken out about Israeli policies and their careers did not crumble, and even thrived.

An initial version of this story stated that Citibank offered to sponsor Waters' tour. A spokeswoman for Citibank, however, noted that "Citi is not a sponsor of Roger Waters' upcoming tour. Two weeks ago, Citi offered a limited time pre-sale of tickets for cardmembers for select shows, as we do for thousands of concerts by different artists every year. The pre-sale has ended and we have no plans to work with this artist in the future."