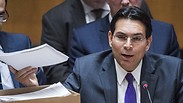 Israeli Ambassador to the UN Danny Danon
Photo: UN
UN expert to examine Israeli human rights groups
UN special representative on the situation of human rights in the Palestinian territories Michael Lynk issues a statement, saying human rights activists in Israel face harsh criticism and delegitimization; Israeli Ambassador to the UN Danny Danon finds offense in Lynk's comments and calls him 'not credible.'
A United Nations expert said Friday that he will examine the Israeli government's treatment of human rights groups in the region in his next report.

Michael Lynk, a UN's special representative on the situation of human rights in the Palestinian territories, said that human rights defenders in the region face scorn and accused Israel of trying to delegitimize their work.

Responding to Lynk's statement, Israel's UN Ambassador Danny Danon called his comments offensive and said it "shows the immense damage done by Israeli organizations that defame us in front of the international community."

"This UN Rapporteur stands at the head of a biased body, he is not credible and we do not recognize his authority," he said. "The lies spread by extremist organizations are 'ammunition' in the hands of those hostile to Israel and provides legitimization for those who wish to act against us in the international arena."

"The fact that the Israeli government threatened to revoke the citizenship of the executive director of B'Tselem is a particularly worrying path for Israel to wind up taking," Lynk continued, referring to the rights groups' appearance before the Security Council earlier this month.

"I am in full support of the statements and the appearance of B'Tselem, the American Friends of Peace Now and any other organizations that appear before the United Nations, trying to highlight the violations of human rights, the violations of humanitarian law and to remind us this occupation is entrenched, is dripping in human rights violations," he added.