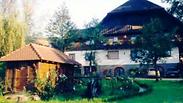 German guesthouse: We don't want Israeli guests
Four Israeli families who reserved rooms at guesthouse in the Black Forest in Germany through Booking.com were told by the manager of the property that they don't want Israeli guests; Booking.com: 'We are very sorry about the incident and are doing everything to find a solution.'
Four Israeli families that ordered guest rooms in the Black Forest for a family vacation received messages a week later that they are unwanted and they need to cancel the booking without being charged. The order was carried out via Booking.com, one of the leading websites in hotel reservations worldwide.

"We made the reservation a few weeks ago for a vacation we're planning in August of next summer," said Igor Tchahansky. "Because we're four families, which is 17 people, we decided to order the rooms as far in advance as possible so we don't end up without rooms and we wanted to be sure we got what we wanted."

According to Igor, the rooms were ordered on the site after an extensive examination. The rooms were booked in an area of the Black Forest called Mattenhof. "We received approval for all of our rooms from the website as well as the hotel itself." According to Igor, after several days, all four families began to receive messages from the hotel.

"Each family got a different message. One family got an email saying the hotel only accepted guests for a minimum of one week. Another family got a message saying that booking is only available from Saturday to Saturday. The third family received a message saying the hotel is actually full, while the fourth family got the following message: 'We do not want Israeli guests. Our rooms are not for them. Please cancel your reservation with Booking.com. You will not be charged. Thank you, Schmider.'" Schmider is Barbara Schmider, the manager of the booking website.

"We immediately contacted the booking site, spoke with representatives in Israel and elsewhere. We told them the situation is unacceptable and they told us to wait, and that they would investigate the matter and send us different options," said Zana Pavlov.

According to her, the Israeli representatives of the booking site were rude and were angry that they had decided to publish an account of what transpired. "We know that Booking.com are looking for other rooms, but for the time being we haven't recieved anything."

In response to Ynet, Barbara Schmider said, "There was a big misunderstanding, Israeli guests are welcome in our home, the problem is just that we have no room and we forgot to update the calendar. We can give the guests the address of our neighbors, I think its ok, and we apologize."

In a conversation with Booking.com, representatives told Ynet and Yedioth Ahronoth that the company apologizes for the incident. "We approached the booking site and they sent a message saying they do accept Israeli guests and that they have even had many Israeli guests. They claim that there was a misunderstanding and that they are overbooked and cannot accept guests. We are doing everything we can to find a solution for the guests and offered them compensation of 1,000 euro, and if necessary, we can increase that. We are very sorry about the entire incident."