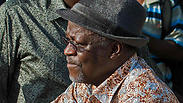 Tanzanian President Magufuli.
Photo: AFP
Tanzania, a once unlikely ally, made a significant impact in softening the langauge in a recent United Nations Educational, Scientific, and Cultural Organization (UNESCO) resolution disregarding Jewish ties with Jerusalem, which followed another that was passed the previous week.

Due to Tanzanian interventions during the discussions of the second resolution, references to Jewish holy sites in Jerusalem were slightly more respectful, and Israel was not referenced solely as an occupying force. Moreover, when Israel needed allies to help it make the vote on the second resolution a secret one, Tanzania—an African nation of 51 million residents whose relations with the government in Jerusalem were practically non-existent one year ago—stepped up to help.

Up until a few years ago, Tanzania was considered fairly hostile towards Israel. As a member of the UN's Non-Aligned group of states, it usually voted against Israel's side in resolutions, breaking such practice only on crucial matters such as nuclear proliferation.

The turn for the better occurred in November 2015, when new President John Magufuli came into office. Magufuli. a devout catholic, stated that Tanzania's ties to Israel were important to him from the outset, and met with Israeli Ambassador to Nairobi, Kenya, Yahel Vilan—under whose purview diplomatic relations with Tanzania also fall—in early 2016.

During a government meeting, Prime Minister Benjamin Netanyahu mentioned Tanzania in a government meeting, thanking it, and Croatia, for their assistance in the UNESCO votes. "I would like to thank the president of Tanzania, who stepped forward alongside the Croatian representative," Netanyahu said, "They, in fact, foiled the fables of the second UNESCO resolution … This is another indication of the great change taking place with Israel's relations to the world, in direct proportion to Israeli power."