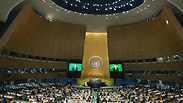 The UN. (Archive photo)
Photo: AFP
The United Nations decided to begin serving kosher food in its cafeterias Monday in a decision which can be considered a small victory for Israel, which usually fails to extract favorable rulings from the world body.

The effort to introduce kosher food was spearheaded by Israeli Ambassador to the UN Danny Danon who petitioned UN Secretary-General Ban Ki-moon, saying it would be appropriate for the UN to cater for the religious dietary laws observed by some Jews, especially in light of the fact that it already serves halal food for observant Muslims, as well as vegetarian food.

Danon claimed that Jewish diplomats who work at, and visit, the UN are not provided with adequate food choices.

He also emphasized the fact that eating kosher food is a fundamental part of many Jewish people's faith, and that it should be respected by the UN, as is the faith of other religious people.