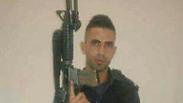 The killed terrorist, Muhammad Turkman
A Palestinian policeman opened fire at a checkpoint at the entrance to Ramallah on Monday afternoon, wounding three IDF soldiers. He was then shot dead by troops from the Paratroopers Brigade's 202nd Battalion, which is deployed at the area.
The site of the attack (צילום: תיעוד מבצעי מד"א)
One of the soldiers was moderately wounded, suffering gunshot wounds to his lower body, while the other two were lightly hurt, suffering injuries to their limbs from fragments. They were taken to the Hadassah Medical Center's Ein Karem and Mount Scopus campuses respectively.
The attacker was identified as Muhammad Turkman, aged 25 from Jenin, who reportedly made his way on foot from Ramallah to the Focus Checkpoint armed with a Kalashnikov assault rifle.
An official from the Palestinian security forces told Ynet that Turkman worked as a guard at the Palestinian Legislative Council building in Ramallah.
The official noted that Turkman headed for the checkpoint, through which the Palestinian Authority's top officials pass every day, straight after the end of his shift without revealing his plans to any of his co-workers.
This is the third terrorist attack since the weekend. On Friday night, a terrorist tried to run over soldiers at a checkpoint near Ofra, and on Saturday evening there was a shooting attack on Route 60, in which no one was injured.