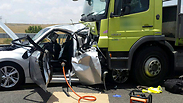 Photo archive
Photo: United Hatzalah
Two separate car accidents which took place within four minutes of one another early Wednesday morning have claimed two lives and left three seriously injured.

The first incident took place when a bus ran over a pedestrian on Jabotinsky Street, also known as 'the road of death' in Petah Tikva next to the city's large shopping mall. The 28-year-old female victim was evacuated to Beilinson hospital in serious but stable condition before police opened an investigation into the incident.

Scene of the fatal crash (תיעוד מבצעי מד"א)

Four minutes after, two people succumbed to serious injuries after a car crash on Route 6, also known as the Trans-Israel Highway.

Magen David Adom received reports at 6:25am that a private vehicle had crashed and was trapped underneath a truck on the main highway near the Horeshim Interchange located between Route 6 and Route 531.

Paramedics arriving on the scene began providing emergency treatment to the three seriously wounded victims, but were forced to declare the death of two within a matter of minutes.

Haim Dagan, one of the MDA paramedics, described the carnage at the scene. "We saw a truck and next to its rear was a private vehicle with its front completely crushed," he said. "Three men in their 30s were trapped inside the car. They were unconscious and suffering from serious injuries."

Police announced that the road had been closed between the Horeshim Interchange and the Eyal Interchange as a result of the crash while its causes are being investigated.

Since the beginning of the year, 315 people have been killed in road accidents.