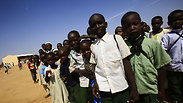 Children who've fled Darfur region in Sudan. (Archive photo)
Photo: AFP
In the past month, Sudanese media have reported that the country's government has issued arrest warrants for 3,300 citizens of the country who were returning from Israel, into which they had infiltrated in the past few years. The reason is that Israel is considered an enemy state by the Sudanese government.

These warrants apparently allowed for the imprisonment of suspects, as well as their placement in house arrest or under other restrictions of movement. Sudan has reportedly done a thorough job compiling a list of people for whom they later issued the warrants.

Social activist Mutasim Ali, who fled the Sudanese region of Darfur years ago and has recently been acknowledged by the State of Israel as a refugee, explained that these warrants are mostly "open." This means, Ali says, that the suspects could be jailed at any time, and those who are not currently jailed must report to a police station or government official once a week.

"So it's possible that not all 3,300 are in jail at the moment, the meaning of the warrant is that those people may be arrested or be under limitations of movement and this or that restriction," Ali says "In addition, it indicates these people being under surveillance by the government all the time."

The State of Israel has a policy of "willing departures," used to try and incentivize the tens of thousands of asylum-seekers in the country to leave of their own volition. As part of the initiative, those who agree to leave Israel's borders are given $3,000. The UN High Commissioner for Refugees (UNHCR) has criticized the policy, claiming it is a de-facto expulsion policy, since the only other option they are given is incarceration.