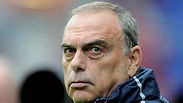 The Egyptian Football Association has revealed a plot by local fans to attack Israeli manager Avram Grant during a game in Alexandria between the Egyptian national team and the Ghana national team, of which Grant is the coach.

According to reports, Egypt has received a considerable amount of threats and hate messages against Grant. A member of the Egyptian Football Association received information that local fans, which called on Egyptian authorities to ban Grant from entering the country, were planning on harassing and attacking Grant from the moment he landed at the airport until he left the country.

The local association decided not to take any chances and have announced that they will tighten security around Grant.

In an interview with an Egyptian sports site, the Vice Chairman of the Ghana Football Association, George Afriyie, said, "We do not know what might happen to Grant in Egypt because we are not citizens of Egypt and we don't have the same feelings that they do in regards to a particular person or country."

Afriyie added that the Ghana Football Association asked for tight security for Ghana and for Grant in particular. "We are warning everyone that there will be punishments if Grant is harmed on Egyptian soil."

Grant is scheduled to arrive to Egypt for a crucial game that is expected to take place on November 13th at the Borg El-Arab Stadium in Alexandria, where the two teams will compete for a ticket to the 2018 World Cup.

Grant told Yedioth Ahronoth, "This is a complicated situation and at the moment it is better not to speak. There are things that require silence."

An official quoted in the Egyptian paper "Al-Youm Al-Sabah" said that they hope that the game will go routinely without politics coming into play. According to the official, security forces have already been briefed on preventing Israeli flags from being brought into the stadium following statements made by fans on social media that they are planning to burn Israeli flags because of Grant.