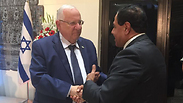 President Rivlin shakes hands with Dr. Izzadin Abu el -Aish
Palestinian who lost 3 daughters in war talks peace with Rivlin
During a meeting with President Rivlin in Jerusalem, Gaza doctor who lost three daughters to an Israeli tank shell during Operation Cast Lead, espouses the virtues of peace and coexistence, draws medical comparison between conflict and fatal sickness.
Palestinian Dr. Izzadin Abu el-Aish, who lost three of three daughters after a missile was accidently fired from an Israeli tank during Operation Cast Lead in 2008-2009, visited Israeli President Reuven Rivlin's Residence Wednesday and offered his insights on the conflict by drawing comparisons between the ongoing conflict and a medical sickness.

"The disease destroys the patient," he said. "Israelis are sick with the disease of fear because of their history and narrative. The Palestinians are sick with the disease of the occupation. How can we grow stronger, proudly live together side by side? What concerns me is that instead of us being closer to one another we are moving further away."

El-Aish compared the situation to a patient reluctant to undergo surgery despite the positive results in can ultimately yield.

"Normally a sick person insist that he won't undergo surgery but after he has done so he is healed. Why not do this today to save more blood? The price is high. Every one of us suffers from (the conflict) and time is running out. Life is short. God created us to live. We have a responsibility to our children," he appealed.

El-Aish arrived in Israel as part of Governor General of Canada David Johnston's delegation. While expressing sentiments for the promotion of peace and coexistence, the doctor nevertheless said he regretted that he was unable to visit his daughters' graves in Gaza.

"I hurts me to arrive in the State of Israel and not be able to get to Gaza in order to visit the graves of my daughters, not only because of the shortage of time but also because I need permission and because of the checkpoints here. We need to build bridges between the people, not checkpoints," said el-Aish.

He went on to say that when he was invited to join the delegation as a Palestinian-Canadian representative he was felt a deep sense of pride before urging the Canadian government to work for coexistence between Israelis and Palestinians.

"I share the Canadian principles of a socialist country. Canada needs to work to bring hearts closer together and to bridge between Palestinians and Israelis and between the Israelis and Jordanians," said el-Aish.

He also accompanied the delegation to Jordan and will be making his way to Ramallah shortly during the delegation's visit to the Palestinian Authority.

After shaking President Rivlin's hand, the el-Aish described how he did not look at Rivlin as a president but rather as a father and grandfather.

"President Rivlin works to bring different Israeli sectors together. We must build bridges between the sectors and find a way to live together—Arabs, Jews, Haredim and the secular. I really respect Rivlin for his efforts. We have to live together," he repeated.

Saying that he was sure that Rivlin was familiar with his story, el-Aish said that as a father and a grandfather, he was sure that Rivlin could view the suffering from the point of view of both Israeli and Palestinian children.

Asked how he sees the conflict between the two sides from Canada, the doctor replied, "Israelis and Palestinians are Siamese twins. It has been decreed that we live together. Our future linked with one another."

Shortly after the tragedy which befell el-Aish, he emigrated to Canada and received citizenship and has since dedicated his life to peaceful coexistence. As part of these efforts, he established the Daughters for Life Foundation, the aim of which is to promote Jewish and Arab women in academia.