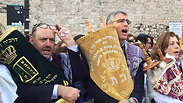 Reform and Conservative Jews
Religious Zionist rabbis are calling on the government to implement a decision to add another section to the area of the Western Wall so Reform and Conservative visitors may worship equally.

According to the rabbis, the High Court erred when designating a separate prayer area for the Women of the Wall, as opposed to allowing them to pray in the central concourse. Now, the rabbis contend, the right thing to do is to at least partition the layout in this particular case.

The rabbis are part of a campaign by Ne'emanei Torah Va'Avodah, which supports the demands of the Reform and Conservative movements. In a video, Rabbi Shlomo Riskin explains, "Judaism in general and the Western Wall in particular are precious and important, it is impossible to leave the future of Judaism to Orthodox Jews alone.

Rabbi Ronen Lubich, President of Ne'emanei Torah Va'Avodah, added, "We cannot leave the situation as it is. The partition plan for a smaller section of the Western Wall near the Robinson's Arch, or any other proposal, must be considered because for Diaspora Jewish communities, which are large and powerful, the connection to Israel is important."

Ne'emanei Torah Va'Avodah went on to call for Orthodox organizations as well as Knesset members to transcend religious differences with the Reform and Conservative movements and join them in preserving the special relationship with Diaspora Judaism.

In contrast, Rabbi of the Western Wall and the Holy Sites of Israel, Rabbi Shmuel Rabinovitch, attacked the recent protests and dubbed them "a small group that continues to do everything possible to fan the flames and turn it into a permanent fire." Furthermore, according to Rabinovitch, the protests are against the law and the guidelines of the attorney general.

Rabinovitch called on the prime minister and protestors to end the "civil war," as he referred to it, and further quipped, "The extension was established according to your demands and is standing barren and open waiting for you. Please, pray traditionally. Respect the torah and preserve the sanctity of the Wall. The religious public call for no provocations and to not blaspheme God."