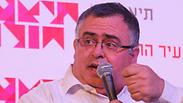 MK David Bitan.
Photo: Motti Kimchi
Coalition Chairman MK David Bitan (Likud), speaking at a Holon Saturday cultural event marking 21 years since the assassination of then-Prime Minister Yitzhak Rabin, claimed that the murder was "not a political act."

He explained, "It wasn't a political murder, and it wasn't connected to politicians," speaking before the annual memorial service for the slain Israeli leader to be held Saturday night. "It was a murder that was committed by a man who wanted to stop processes."

He added that the state must fund the Rabin memorial rally and that he was pained to hear that the rally lacked sufficient official funding this year. "I am for a state ceremony," he said. "If I had to take the decision, I would fund that rally and hold a state rally, not a leftist rally."

Addressing the public broadcasting controversy, Bitan said that establishing a joint team of the Prime Minister's Office and the Finance Ministry caused the dismantling of the Israel Broadcasting Authority (IBA). Incidentally, Finance Minister Moshe Kahlon (Likud) insisted that Bitan not be part of that joint team. The coalition chairman said, "I don't envisage a scenario in which the authority won't be cancelled."

He claimed that the IBA was comprised of "clear leftists" who want to implement their own agenda. Bitan said, "We checked the Facebook of employees in the authority. The authority will be clearly anti-governmental."

The coalition chairman leader later rejected the claim that Prime Minister Benjamin Netanyahu bamboozled him when he delayed closing the IBA. "I am in constant and good contact with the prime minister," he claimed. "There's a hierarchy. The final decision is that of the prime minister, and I respected that. The media deals with the authority obsessively—Soviet engagement. You're doing this because of your friends in the authority. We aren't afraid of the media; we've learned to live with a media against us."

Deputy Speaker of the Knesset and Secretary General of the Labor Party MK Hilik Bar criticized Bitan's words. Referring to Rabin's assassin, he said, "Yigal Amir didn't have a Facebook to probe, but you don't need to be the chairman of the coalition to understand that this was a political assassination in the clearest form possible. The murder was preceded by organized incitement, hatred, persecution by the extreme right, marking targets and calls of 'traitor.' That same hatred, persecution, marking and incitement exists today as well—against journalists, judges, IDF officers and anyone who thinks differently from the government."