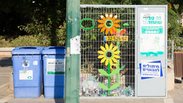 Israel recycles 750,000 family sized 1.5 litre plastic bottles every day. But Israel's leading recycling corporation ELA wants even more – they want Israelis to be recycling 1 million bottles a day.

On November 17th, the corporation will be starting a drive called "recycling a million" to get Israelis to that goal.

The project was launched by Environmental Protection Minister Ze'ev Elkin (Likud), in a ceremony whereby the minister and ELA Chairman Nehama Ronen symbolically put empty, family sized plastic bottles into the recycling bin next to the Knesset.

The project calls on the public to take on part of the responsibility of protecting the environment by throwing any and all family sized bottles into any one of the 22,000 ELA recycling bins placed throughout the country.

Minister Elkin said "because of recycling of family sized bottles, we are saving 80,000 tons of landfill waste a year. Additionally, by using recycled materials, we are saving tens of millions of shekels on the import of raw materials."

Ronen noted that "Israel is one of the world leaders in terms of recycling plastic bottles, recycling 59 percent of all plastic bottles. France and the UK recycle 57 percent of their plastic bottles, while the US only recycles 32 percent of the plastic bottles there. This isn't just completing an objective (for us), but a great victory, brought about due to hard work and our investment in public relations campaigns to the citizens of Israel – especially with children."

"This project will remind all Israelis that large, family sized bottles should be recycled, not thrown out," she continued.