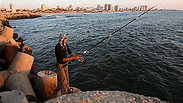 Palestinian fishermen
Archive photo: Associated Press
A 22-year-old Gazan fisherman was indicted Sunday in the Be'er Sheva District Court for engagement in criminal activity against Israel on behalf of Hamas.

Among other things, the indictment against Mahmoud ibn Said al-Saidi noted that he carried out smuggling operations on behalf of Hamas from Egypt, delivering to the terror organization diving equipment and cigarettes.

The smuggling was thwarted only when the suspect attempted to deliver weapons to Hamas after he was caught by the Egyptian military.

According to the indictment, in 2013 activists from the Hamas military brigade of Izz ad-Din al-Qassam approached al-Saidi seeking his assistance in acquiring military and diving equipment using a boat he received from Hamas.

Al-Saidi was asked to smuggle 50 diving suits, 50 flippers, 20 sets of binoculars and 6 oxygen balloons in return of $1,000.

When he arrived on the Egyptian side of the Gaza border, he met five masked individuals who informed him that his equipment exceeded the permitted weight and was therefore only able to deliver half of the diving equipment. Two days later he repeated the same journey to complete the mission.

In addition, al-Saidi was requested to smuggle electrodes for welding in return for $300 but, in the end, only succeeded in smuggling cartons of cigarettes and tobacco in return for a payment of $400.

He later attempted to smuggle a number of weapons amounting to 200kg, according to the indictment, for $1,200. During the operation however, he was spotted near Egypt by the country's army, prompting its soldiers to fire upon him, injuring one of his accomplices in the process.

The indictment also lists al-Saidi's criminal activities which included establishment of contact with foreign agents, conspiracy to commit crime and providing services and resources to terror organizations.

The prosecution requested from the courts that the al-Saidi be kept under arrest until the conclusion of the legal proceedings against him.