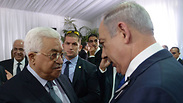 Mahmoud Abbas and Benjamin Netanyahu
Photo: Amos Ben Gershom/GPO
Pierre Vimont, France's special envoy for the Israeli-Palestinian peace process, said at a conference in Tel Aviv on Sunday that it was his government's intention to move forward on the French peace initiative by the end of this year.

The conference was held by the Macro Center for Political Economics and the Institute for National Security Studies. Vimont said that the current status quo was distancing the two-state solution and necessitating intervention: "We want to revive the two-state solution in this window of opportunity and return it to the international agenda."

The diplomat also said that promoting the initiative is a test of wills to see if the Israelis and Palestinians truly want to reach a solution. "The French initiative is not an attempt to get involved in Israeli policy, but an attempt to harness the goodwill of the international community for the sake of a solution," he explained. "The initiative prompted additional peace initiatives and partners who had never gotten involved in the subject asked how they could contribute and help promote the initiative. The initiative is intended, inter alia, to reexamine which of the parties is interested in proceeded and who isn't. If the Israeli government decides to attend, it will be a test of Israel's commitment to the issue."

Leader of the Opposition Isaac Herzog also participated at the event. Regarding the peace process, he said that he preferred direct negotiations between Israel and the Palestinian Authority supported by Arab countries. "The Arab Quartet—Egypt, Jordan, Saud Arabia and the UAE—has tried to lead such a process in recent months, and it was the basis of my talks with Netanyahu on unity," he said.

"Today, the regional opportunity is the important opportunity. I already said that I don't see how (Netanyahu) and (Abbas) can promote anything. International intervention can be dangerous and only increase the violence between the peoples."

Speakers at the conference, current and past politicians, warned against a reduction in European interest in the conflict. Former Italian Prime Minister Massimo D'Alema said, "The danger is from the reduction in European involvement in solving the conflict and not from over-involvement. Europeans today are against aid for soldiers on the Lebanese border, against aid for Israel, against financial aid for the Palestinians. The European public doesn't understand why they should invest there."