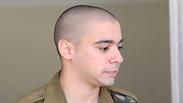 Sgt. Elor Azaria
Photo: Motti Kimchi
Military prosecutor Lt. Col. Nadav Weisman submitted a final summary in the trial of Sgt. Elor Azaria to the Military Court in Jaffa on Monday in which he used the words "he lied" no fewer than 23 time to describe the defendant's testimony.

Furthermore, the 145-page summary, the main premise of which is condensed into three pages, recommends that Azaria be convicted of manslaughter.

The defense summoned its last witness to the dock at the end of last month, marking the conclusion of the hearing of prosecution and defense testimony.

Sgt. Azaria is facing manslaughter charges after he shot to death a seriously wounded Palestinian terrorist, Abed al Fatah al-Sharif, in Hebron.

In his final notes, the prosecutor claims dozens of times that Sgt. Azaria lied during his testimony, made blatantly false accusations against his commander, changed his version of events five times and "made up fictitious details."

Weisman also sought to bring to the judge's attention that Azaria had engaged, he claimed, in the fabrication of falsehoods despite the evidence marshalled against him, including the video filmed by a B'Tselem cameraman documenting the incident.

"The one shot that was fired by the indicted individual rocked the entire state," Weisman concluded. "It caused thunderous reverberations in the heart of public debate and aroused disputes in a number of fields. This public discourse, however important it may be, belongs outside of the court."

The submission of Weisman's deductions signals the advent of the final chapter in the national saga which whipped the country—including the highest political and military echelons—into a hysterical frenzy.

By the end of November, both the prosecution and defense will deliver their concluding statements in a final bid to extract their respective desired verdict. Shortly thereafter, at a date likely in December, Judge Maya Heller will announce the verdict. If Azaria is indeed found guilty, the expected sentence will likely amount to several years in prison.