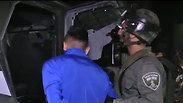 One of the suspects led into a police vehicle
Photo: Israel Police
Nine individuals were arrested by Israel security forces in eastern Jerusalem neighborhoods overnight Monday on suspicion of public disorder which included the throwing of Molotov Cocktails, rocks, the launching of fireworks and firing bullets into Jewish neighborhoods nearby.

The surprise sweep, which took place in the Refugee camps of Shuafat and El-Aida located in the Jerusalem municipality under the authority of the police, also saw snipers placed on rooftops. Both of the camps lie beyond the border fence built within the city's parameters.

Arrest sweep in eastern Jerusalem (צילום משטרת ישראל)

The operation's activities, which were based on intelligence information, also took place in the neighborhood of Ras al-Amud located southeast of the Old City and in the urban Arab neighborhood of Isawiya sitting adjacent to the border next to Jewish neighborhoods in the capital.

According to the police, some of the suspects arrested are believed to have engaged in activities including launching fireworks at citizens and into bordering neighborhoods such as Pisgat Ze'ev.

The police also reported that a handful had fired guns causing stray bullets to end up in the same neighborhoods in the northern part of the city.