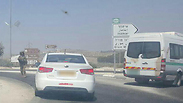 Illustration: Huwara
Photo: TPS
An attempted stabbing attack was carried out early Wednesday morning in Huwara, before being neutralized by security forces. No other injures were reported.
The attacker approached security forces guarding the Palestinian town located in the Nablus Governorate of the northern West Bank and
attempted to stab an IDF soldier using a screwdriver. No injurieswere sustained by the soldier due to the bulletproof vest he was wearing.
Responding to the attack, the security personnel immediately opened fire, managing to wound and neutralize the terrorist who was then evacuated to hospital.
The attack is the first to have taken place since last Thursday, when a terrorist also attempted to carry out a stabbing attack at the Ofra Interchange before being shot and killed by security personnel stationed nearby.