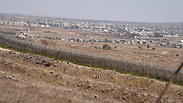 Golan Heights. (Archive photo)
Photo: Avihu Shapira
A mortar shell from Syria landed inside Israeli territory in the Golan Heights region, the IDF reported Wednesday morning. No one was harmed by the mortar, and no property damage was reported.
The landing was likely the result of a stray shell fired during the fighting in the war-ridden country.
In response, the IDF attacked an artillery battery belonging to the Syrian regime in the northern Golan Heights.
As IDF soldiers work to identify the precise spot in which the mortar fell, it was confirmed that it hit an orchard on the Israeli side of the border. Moreover, while none of the northern residents' lives were directly impacted, sources in the Golan Heights report that fighting on the Syrian side of the border has begun once more.
In response to the mortar shell, the IDF issued a statement saying, "The IDF will not tolerate any attempt to harm Israel's sovereignty and the security of its citizens. The IDF holds the Syrian regime responsible for what happens in its territory."
During the months of August and September the IDF responded to several instances spillover from the Syrian side with airstrikes.