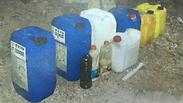 The Shin Bet, in conjunction with the Israel Police and IDF, have arrested eight Palestinians from the West Bank and east Jerusalem suspected of being involved in planning terror attacks in Israel and the West Bank, it was cleared for publication on Thursday.

An investigation revealed that the suspects were planning on creating and using improvised explosive devices (IEDs) against IDF forces in the West Bank and were also planning other joint attacks.

The investigation further revealed that an east Jerusalem resident named Ahmed Azaleh was involved in the plot. He was arrested when attempting to smuggle in two kilos of gunpowder for the purpose of creating pipe bombs.

The Shin Bet and Israel Police uncovered laboratory equipment used to manufacture explosives and IEDs, along with 120 kilograms of various raw materials to be used in the manufacturing of explosives and IEDs.