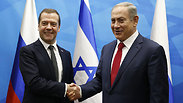 Russian PM Dmitry Medvedev and PM Benjamin Netanyahu
Photo: EPA
PM Medvedev: We must fight terror and anti-Semitism
During a joint press conference with Russian Prime Minister Dmitry Medvedev, Netanyahu reiterates Israel's determination to prevent Iran acquiring nuclear weapons, hails robust alliance with Russia and thanks his country's efforts in returning the bodies of Hadar Goldin and Oron Shaul; Medvedev cites shared values and challenges.
Prime Minister Benjamin Netanyahu held a joint press conference in Jerusalem with Russian Prime Minister Dmitry Medvedev on Thursday afternoon during which the latter described how he felt at home every time visited Israel.

During the conference, Medvedev spoke about the shared values between the two countries while highlighting his country's obligation to combat anti-Semitism and as well as the mutual obligation to face common challenges.

"First and foremost it is terrorism that threatens the entire globe but here, in your area, it is felt particularly harshly. The Russian Federation also suffers from terror and it is part and parcel of the same thing. In light of this fact," he said, "we have to fight terror together and that relates to security cooperation. With joint efforts we need to destroy the seed of terror which lies in the hands of ISIS."

Medvedev went on to describe Israel as the "biggest partner in the region for economic affairs. We need to push forward the economic and commercial relations. That is why we have met today and signed the agreements. In Russia there are specific agricultural conditions and in Israel there is the technology which combined can bring about quality."

For his part, Netanyahu thanked the Russian premier for his visit to Israel but he wasted few words before getting down to business and turning the focus to Iran. "We are determined to do two things: to prevent Iran from acquiring a nuclear weapon and preventing Iran from establishing a military presence in Syria."

Netanyahu also outlined Israel's determination to prevent Iran from building Shiite militias which could strengthen Hezbollah by supplying it with increasingly dangerous weapons. "There is a robust alliance and brotherhood between our two countries and this visit will strengthen it."

Netanyahu also thanked Medvedev for "helping in the issue of paramount human interest: the return of the bodies of Hadar Goldin and Oron Shaul, and the three Israeli citizens being held in Gaza. This also expresses the friendship between us."

Leader of the Opposition Isaac Herzog also met with the Russian premier and asked that his government intervene in calling for the return of the return of Abera Mengistu and the remains of Hadar Goldin and Oron Shaul from Hamas. He said, "I ask you as the prime minister of a very important power with great power in the Middle East to employ the full weight (of your influence) for a humanitarian act and political righteousness to return the soldiers and release Abera Mengistu."