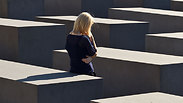 Berlin holocaust memorial
Photo: Shutterstock
Neo-Nazi group publishes list of 70 Jewish sites in Berlin on anniversary of Kristallnacht
On the 78th anniversary of the infamous pogrom, which led to the deaths of hundreds of Jews and destroyed thousands of Jewish businesses, a German neo-Nazi organization publishes a Facebook post listing 70 Jewish sites in Berlin under the headline 'The Jews among us!'
A German neo-Nazi organization published a list of 70 Jewish sites in Berlin on its Facebook page on the 78th anniversary of Kristallnacht, which a hundred Jews and destroyed thousands of businesses, synagogues and Jewish homes.

"The Jews among us!" wrote the neo-Nazi organization in a Facebook post detailing a map, complete with addresses, of 70 synagogues, daycares, schools, monuments, restaurants and cemeteries in Berlin. Included on the list was the new Berlin Synagogue and the city's Holocaust memorial for European Jews.

Accompanied with the map and list was a post stating, "Today is such a nice day!"

The Mobile Counsel Against Right-Wing Extremism (MBR), a German anti-extremist organization, spotted the post and together with Green Party MP Volker Beck, informed all Jewish establishments that were on the list.

In an interview with German newspaper Tagesspiegel, MBR Spokesperson Bianca Klose said the neo-Nazi group "regularly shares openly racist and anti-Semitic messages."

In an interview with The Local, Sarah Friedrich, spokeswoman for the Foundation Memorial to the Murdered Jews of Europe, said "We are shocked by this and find it intolerable. The fact that it was on Kristallnacht is disturbing. It feels like how things were in the 1930s were Jews were put on lists and that is a disquieting feeling. We hope nothing bad comes of this."

The Israeli ambassador to Germany, Yakov Hadas-Handelsman, said, "It is shameful that these things still happen and even more shameful that it occurred in Germany on the anniversary of Kristallnacht. Unfortunately we are witnesses to a recent rise in the level and daring of anti-Semitic activities in Germany too. There is no room for that here and we expect authorities will do all that is necessary to prevent things like this from happening, even if they happen on Facebook. We also expect German public condemnation of this phenomenon."