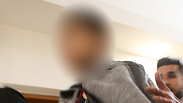 A. in the courthouse
Photo: Alex Kolomoisky
Three juvenile terrorists were sentenced to especially harsh sentences on Monday in the Jerusalem District Court to send a message to the public that their actions would not be tolerated.

Judge Yoram Noam sentenced 14-year-old A. to 12 years' imprisonment and a 14 and 15 year old each to 11. A. carried out the stabbing attack in Pisgat Zeev in October 2015, and the two other convicts, both from Shuafat in Jerusalem, carried out a stabbing attack at Damascus Gate in the Old City in January 2016.

The sentences are considered unprecedented in their seriousness. The message from the judicial system was clear: Minors who commit terrorist attacks will be judged with a firm hand. The judge explained, "In today's harsh reality, stricter punishment is inevitable. Under these circumstances, the need to keep terrorists behind bars is growing, and real weight must be given to the principles of deterring the many and the individual are real considerations for the strictness of the penalties."

Many of those who carried out attacks in the latest wave of terrorism were under the age of 20, which has posed a problem for the judicial system. These are not just children throwing rocks at security forces or public transportation, but rather attackers stabbing innocent passersby and who were then charged with attempted murder.

The courts have extremely limited experience in judging terrorists of such a young age, and most of the judgments on record are from the 1990s and concerned 16-year-old attackers. In most cases, their young age and presumed potential for rehabilitation helped to lessen the severity of their punishment.

The three convictions handed down on Monday join other recent court findings that include a 16-year-old terrorist who carried out a stabbing attack in the capital's light rail in November 2015 and who was sentenced to 18 years in prison. The same punishment was handed down on a 17 year old for a similar offense.

Noam explained the harsh sentences that he decreed, "Recently we have seen that even young children aged 14 to 16 are taking an active part in acts of terrorism. However, being a minor doesn't grant impunity from appropriate punishment when committing a serious crime. The punishment needs to express society's dislike of these acts intended to kill a person for nationalistic reasons…and lightening the sentence could send the wrong message to the public."