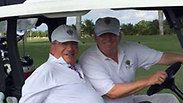 Donald Trump's Jewish connections extend beyond his converted daughter Ivanka. Businessman Yaakov Shaham is one of the few Israelis who can call themselves a friend of the American president-elect.

Shaham and his wife Helena own the Palace Group, a chain of prestigious senior living communities in Miami.

"The Donald Trump that I know is completely different from the Trump that yells at rallies and inflames the crowds," said Shaham. "Privately, Trump is much quieter, much more sensible, and also a very smart man with a great sense of humor. The man's a pal. He pats on the back. He'll take a picture with you, will talk with you eye-to-eye. He's just a completely different man behind closed doors."


He recounted, "I met Trump for the first time four years ago in Palm Beach at the golf course there. We chatted for a bit, had lunch, and that was it. Half a year before he decided to run in the election, when he finished renovated his resort in Doral in the Miami area, he invited me to play golf with him, and we played together for three hours. I was really impressed. He's a very positive man. From then, our relationship began to grow. We kept meeting every fortnight at the resort."

"He told me that he was considering running for the presidency. I told him that if he decided to run, I would support him, and it happened. As soon as he decided to run, we sort of fell out of contact because he was very busy, but I continued to be in contact with his daughter Ivanka. She stayed in contact with me so that they could collect the donations that I had promised them" Shaham said.

Ten days before the election, Ivanka phoned Shaham, and the Israeli made a six-figure contribution. Shaham refused to specify the amount beyond its figure. He's not the only Israeli who donated to Trump: Real-estate mogul Michael Dezer, who built some properties together with the president-elect, also made an over-$100,000 donation. "Trump didn't ask us for a donation. We offered it to him of our own initiative," Shaham pointed out.

Shaham remembered that one of the times that he was playing gold with Trump against two managers in the Israeli's company: "Trump said to them, 'We're the Jews against the Cubans.' He already had grouped himself as a Jew because of Ivanka. It's a sort of cliché that he thought of himself as a Jew. He loves Israel—he's for Israelis. Most Israelis who live in the United States voted for him, contrary to Jews who mostly voted for Hillary Clinton."

Trump and Shaham discussed Israel and Prime Minister Benjamin "Bibi" Netanyahu amongst themselves. "Trump really likes Bibi. He says, 'Listen, Bibi is a strong person, and Israel needs a strong person. I understand that you have coalitions with all kinds of parties, and you need to fold sometimes, but I like that there's somebody strong who's sitting at the top.' That's also Trump's motto in his businesses. He lets a lot of his managers lead, but at the end of the day, he's the one who decides."

Would you say that Israel has a friend in the White House now?

"Unequivocally. I hope that because he's pro-Israeli, he'll be able to use his weight and force Israel to take steps with the Palestinians. He's capable of doing that. That's in his power."

Have you ever heard criticism of Israel from him? About the building of settlements?

"No. Not one word of criticism from him on Israel."

When was the last time that you met Trump?

"Last Wednesday, six days before the election. I had a private breakfast with him. We were five couples with his entire team and his Jewish son-in-law in Miami. A three-hour-long breakfast. Big donor were invited to the breakfast who had donated a lot of money to him, and wanted to thank us for the help. The leadership of the RNC spoke. They looks at all the statistics in a different way. They explained well that Trump was on the right path. Having heard what they had to say, I can say that I wasn't surprised at all when Trump won."

"What else did you hear from him at the breakfast?

"Trump has a great sense of humor. He told a lot of jokes and also made jokes at his own expense, his family's and also about Hillary, but not in a derogatory way, on an acceptable level. What he says at events with tens of thousands of people he also says in private conversations. He explains that he'll keep all his promises, but it isn't an easy process. It'll take time. But his intention is to take on all those matters. The central issues for him are domestic issues and not foreign issues. He told us that the media doesn't like him and doesn't want him. They're eating their hat now, including Obama. He told us that he wants to strengthen the United States from within, and after that he'll deal with the free world. He's going to change some world orders, like the issue of free trade with the United States. Lots of countries have exploited the US, and that's going to change."