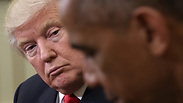 Trump (L) watching Obama
Photo: AFP
Giving his first interview following his shocking win on Tuesday, US President-elect Donald Trump told the Wall Street Journal that he would very much like to make a peace deal happen between Israel and the Palestinians.

Describing the Israeli-Palestinian conflict as "the war that never ends," Trump said that he views a possible peace agreement as "the ultimate deal," and one that would love to help bring about, "for humanity's sake."

Trump expressed a decidedly different view than US President Barack Obama regarding the war in Syria. While Obama's administration has been supporting relatively moderate rebels fighting to overthrow Syrian President Bashar al-Assad, Trump said that his main focus pertaining to the Syrian conflict would be to defeat ISIS, while not going up against powerful such forces as Russia unless absolutely necessary.

"My attitude was you're fighting Syria, Syria is fighting ISIS, and you have to get rid of ISIS. Russia is now totally aligned with Syria, and now you have Iran, which is becoming powerful, because of us, is aligned with Syria. … Now we're backing rebels against Syria, and we have no idea who these people are."

Stopping on public health, Trump said that he was looking to quickly move on US President Barack Obama's universal healthcare plan, which Trump views as cumbersome, expensive and unusable.

Despite this, Trump did mention a willingness to keep two parts of the healthcare plan, namely, prohibiting insurers to deny healthcare due to a preexisting condition and allowing parents to additional years of coverage for their children. This following his meeting with Obama on Thursday, during which Obama asked Trump to consider their continued existence.

After a campaign full of accusations of corruption and "rigged systems," and after lashing out at Obama, First Lady Michelle Obama, his adversary Hillary Clinton and her husband former President Bill Clinton, Trump has been taking a more conciliatory tone ever since he won the electoral vote.

"I want a country that loves each other," he said. The specifics of this statement at present remain unclear. In any case, when asked whether he had taken his aggressive rhetoric too far, Trump responded by simply saying, "No, I won."

Trump made many statements over the course of his campaign, from banning Muslims to opposing women's rights. During a particularly fiery exchange with Clinton at one of the presidential debates, Trump promised to set up a special investigator to look into Clinton's dealings during her time as secretary of State, promising to do everything he can to make sure she will go to prison for her alleged crimes.

When asked about this promise post-election, though, Trump did not answer, saying only that he had not given the matter much thought ever since his election.