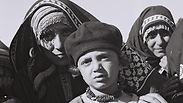 Yemenite children
Photo: David Eldan/GPO
After decades of struggling, the public may finally be able to have access to documents which deal with the investigations into the disappearance of thousands of Yemenite child immigrants on Sunday.

These children along with children, whose families originate in Muslim countries in the Middle East and the Balkans, went missing during the first years of the State of Israel.

Minister Tzahi Hanegbi will submit a proposal on the issue. As long as there are no last-minute roadblocks, hundreds of thousands of documents will be brought to light regarding this tragic period wherein thousands of children were allegedly kidnapped from their parents.

The minister is expected to request the government to put all of the documents on an internet site so that they will be easily accessible and so that the suffering of these families will finally come to an end.

The draft resolution indicated that the public interest must be taken into account when exposing these documents. This, in conjunction with court orders regarding the protection of privacy, and other secrets.

Several of the documents related to the issue won't be allowed to be published due to national security issues and personal privacy laws.