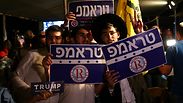 Trump supporters in Israel
Photo: Ohad Zwigenberg
As President-elect Donald Trump prepares to take office on January 20, it's strange to look back at what he told Israeli journalist Ilana Dayan during in a 1998 interview: "I think I'm too controversial to be a politician."

Trump is indeed a controversial figure who inspires extreme reactions from his listeners—from enthusiastic support to passionate hostility, even among senior Republicans.

One of those controversial statements was his promise to move the US Embassy in Israel from Tel Aviv to Jerusalem. He is not the first presidential candidate to promise this. Others stopped short of going ahead with the move upon entering the White House because of strong opposition from the State Department.

But a senior Trump advisor on Israel says there is a better chance that this time the promise would be kept. David Friedman, who will likely be appointed the next US ambassador to the Holy Land, says that "If there is anyone who can tell the State Department what to do, it's Trump. If the people there object, he would just tell them: 'Ladies and gentlemen, you're all fired.'"

Friedman, one of Trump's attorneys, visits Israel at least twice a year to celebrate the High Holy Days and Passover in his apartment in Jerusalem. He met with the team running the campaign for Trump in Israe on the eve of Sukkot this year.

There are over 300,000 eligible American voters living in Israel, and after an aggressive campaign—in which hundreds of thousands of shekels were invested—some 75 percent of them voted for Trump.

Friedman advised the Israeli team during the campaign, as well as Vice President-elect Mike Pence and Trump's Jewish son-in-law Jared Kushner. Just before the end of the campaign, Pence called the Israeli team to praise them for their work, which was "very important among Jews and Evangelicals."

Dozens of volunteers from the Israeli team called Jews and Evangelicals, mostly in Florida, on Election Day and before that, and told them "If the Jews in the Holy Land voted for Trump, so must you."

There was also talk of a delegation led by Pence and Ivanka Trump to meet with potential voters in Florida, but it was cancelled last-minute.

Tzvika Brot, the director of the Israeli campaign for Trump, got to meet with the candidate during the Republican National Convention. "The man is impressive," Brot says. "And during our meeting, he was completely different than his public persona."

Brot recounts that "After he finished his speech and stayed on message, he met with me and a group of senior officials who attended the conference, and gave an entirely different performance. It appears he knows how to adapt himself to his audience. He speaks in practical terms."

Brot also spoke of the plan to organize a Trump visit to Israel ahead of the elections. The general outline of the visit had already been prepared: He would visit the Yad VaShem Holocaust Museum and important Christian sites in Jerusalem. But the visit was cancelled when senior officials in the Foreign Ministry and in the Prime Minister's Office, including Prime Minister Netanyahu himself, declined to meet with Trump, not wishing to appear as if they were interfering in the American elections.

The campaign also considered sending Trump to the funeral of Israel's ninth president, Shimon Peres, but scrapped the idea due to concern that Trump, as a presidential candidate without an official position, would be relegated to the back seats while Hillary Clinton would sit in the front row next to her husband, former President Bill Clinton.

"Minutes after we announced that he would not come to the funeral, Clinton also announced she was not coming," Brot said.

The president-elect's close associates say his concern for Israel will continue to play a dominant role even after his inauguration.

"His daughter Ivanka and her husband Jared really do love Israel," one associate said. "They're religious people who attend shul on Fifth Avenue in New York. During Sukkot, when they were walking down Fifth Avenue with the Four Species, they were photographed for one of the papers. Since the paper's editors didn't understand what Ivanka was holding, they wrote that her husband bought her flowers for Shabbat."

"Trump also prepared a speech for a campaign event held in Jerusalem on October 26, attended by Republican Party supporters in Israel. Israel is close to his heart, and will remain that way."