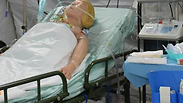 IDF field hospital
Photo: IDF Spokesperson
The IDF Medical Corps's field hospital, which Israel sets up at times of emergency across the country and the world, was recognized by the World Health Organization as the world's leader, becoming the first field hospital to achieve the highest possible ranking from the UN agency.

The commander of the General Staff's Surgical Hospital Unit, Col. (res.) Dr. Ofer Merin, whose civilian job is directing the Shaare Zedek Medical Center's Trauma Department, said, "It's a national honor for the State of Israel and for the Medical Corps."

In recent weeks, a WHO ranking process awarded the IDF field hospital the highest possible grade, 3. The hospital was sent nearly two years ago to assist the wounded in the Nepalese earthquake. As is usual, it provided medical care to families, carried out complicated surgeries, and function as a proper hospital in every sense for several months after the disaster.


In the past, countries that wanted to send aid mission didn't necessarily help, and at times they even posed a burden to the hosting countries. Therefore, the WHO began in 2012 a process that ended up setting binding standards. Inter alia, it was decided that field hospitals sent to help would be ranked 2 and would be able to carry out surgeries.

Israel joined another 16 countries running similar field hospitals. "When an objective organization like the UN says that one should learn from us, it's very moving," said Merin.

The length of the recognition lasts from six months to a year. The WHO sent a team to inspect the ranked hospital, a control process that lasted several days.

"After a process lasting many months that ended last week, the team sat with us and announced that the Israeli field hospital was recognized as a level-3 hospital, and one of them even said, 'There's room for the world to learn from the Israeli field hospital,' 'The world needs to learn from the Israelis how to engage in disaster areas,'" explained Merin.

He added, "If we're in a disaster area, we need level-2 field hospitals, which are hospitals that provide advanced first aid and level-3 hospitals, which are hospitals that are capable of operating and carrying out invasive surgeries. We are the only ones in the world with a field hospital at level 3."

The proud doctor summarized, "I think that's a great national pride. A field hospital that extends a hand to help countries of the world—I think that this is a great honor… Israel provided world aid to a great number of countries. We worked in Nepal, in the Philippines, in Japan and in Haiti. Four different countries inside of five years to which Israel provided aid—this is great pride for the IDF and the country."