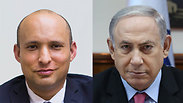 Education Minister Naftali Bennett and Prime Minister Benjamin Netanyah
Photo: Daniel Elior and Amit Shabi
Regulation Bill approved in ministerial committee
As PM Netanyahu opposes the bill and instructs ministers to refrain from voting, Bennett and Shaked storm out of the meeting after Defense Minister Lieberman accuses him of being motivated by electoral considerations; Bennett tells Netanyahu: 'You had a year to deal with this and nothing happened'; despite heated dispute, bill passes vote unanimously, also supported by Likud ministers.
The so-called Regulation Bill designed to legalize outposts in the West Bank was approved in the Ministerial Committee for Legislation vote on Sunday evening following heated discussions between the ministers present.

The bill was brought to the vote by Bayit Yehudi Leader Naftali Bennett despite Prime Minister Benjamin Netanyahu's efforts to convince him to postpone the vote last Thursday.

Little time elapsed before a bitter verbal exchange erupted between Education Minister Bennett and Defense Minister Avigdor Lieberman (Yisrael Beytenu) after the latter accused him of spearheading the law to advance election prospects.

Demanding that Lieberman apologize for his remarks, Bennett and Justice Minister Ayelet Shaked (Bayit Yehudi) stormed out of the talks. Before doing do, Bennett turned to the prime minister, who had gone to great lengths to oppose the bill, and said: "You all had a year to take care of this and nothing happened. Hundreds of thousands of Israelis are second class citizens and now it is time to move forward."

During the meeting, Attorney General Avichai Mandelblit reiterated his legal judgement that if the bill were to be ratified, it would constitute a breach of international law. He also added that it would not stand up in the High Court given that there was no precedent for such a move which would entail the expropriation of private lands and ownership from people. "It could create a problem," Mandelblit said.

In a meeting between Netanyahu, Bennett, Lieberman and Shaked which took place on Thursday, Bennett was unmoved by the reasons expounded by Netanyahu for delaying the bill which included the possible international repercussions which could ensue.

The initiative has picked up increased momentum in recent weeks over the decision to evacuate the Amona settlement—a move to which Bennett's party fundamentally objects.

According to a revised and softened version of the proposed bill, which was submitted by Bayit Yehudi MKs Bezalel Smotrich and Shuli Mualem together with Likud MKs Yoav Kisch and David Bitan, it would only apply to settlements established with the involvement of the state and not to those whose establishment was devoid of state planning. Amona would fall within the first category.