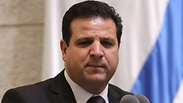 MK Ayman Odeh
Photo: Knesset Communications
Leader of the Joint List MK Ayman Odeh gave a telephone interview Sunday to the Lebanese and Hezbollah-affiliated news channel Al Mayadeen during which he described former Israeli President Shimon Peres as a "representative of the occupation."

During the interview, Odeh discussed a number of subjects including the Israeli-Palestinian conflict, the election of Donald Trump and also addressed comparisons between Peres and former Chairman of the Palestinian Liberation Organization Yasser Arafat.

"The comparison between President Arafat and Peres is unacceptable," Odeh said. "Arafat was a leader of a national liberation movement, a hero, a refined individual and he fought loyally and believed in the need to end the conflict by establishing a Palestinian state with Jerusalem as its capital."

By contrast, his comments on Peres were somewhat less flattering. "He represented the occupation for decades. In addition, he supported three wars against the Gaza Strip and supported racist laws against the Palestinian people," declared Odeh.

Turning to the election of Donald Trump, Odeh said, "We don't know what the president-elect thinks. The USA, whether Republican or Democrat, is essentially a single unit and even if there are two presidents, the policies regarding the Palestinians are the same. If the US really wants peace, it has to force it on Israel."

A separate interview with Odeh is also expected to be published on Monday by the largest Palestinian newspaper in the West Bank, al-Quds newspaper, which in October conducted a rare interview with Defense Minister Avigdor Lieberman, causing outrage among Palestinians.

In a preview of the interview which has already been published, Odeh told the newspaper that American involvement constitutes the problem rather than the solution to the conflict.

Furthermore, he heaped criticism on Prime Minister Benjamin Netanyahu, charging that he prefers to manage the conflict rather than solve it and is totally uninterested in a two-state solution. "The Israeli democracy was established at the expense of our people," Odeh is quoted as saying in the preview.

Odeh is not the first Arab MK to have participated in an interview with Al Mayadeen and the channel was recently exposed for duping a number of senior Israeli officials into being interviewed.