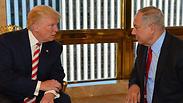 Prime Minister Benjamin Netanyahu and US President-elect Donald Trump
Photo: Kobi Gideon/GPO
Netanyahu and Trump: Birds of a feather?
Op-ed: US election results prove there is no room for gray candidates in today's world. The more blatant, rude and arrogant a person is, the higher are his chances of reaching the top. Netanyahu, Trump's local version, knows that despite the joy in the Right, the new president may not be that good for Israel.
When did the world change so much? Where were we when the United States of America became this country, whose new president is a rude thug, a sexual harasser who deceived the tax authorities.

This election could be dismissed by simply saying that the American people had no alternative. That former secretary of state Hillary Clinton was a weak, hated candidate, who represented bureaucracy and the moldy establishment and didn't really have anything to offer. But all that is not enough. To vote for a candidate like Donald Trump, one has to shut one's eyes and completely ignore things that wisdom will not let one ignore. It's impossible to be a woman, a mother, a black person, a Hispanic, a Muslim or just a decent person, and vote Trump. At least that's what we thought until last week.

But hey, it's apparently possible. Or as one of his campaign surrogates said inarticulately: Trump is a "Mazel Tov" cocktail hurled at the heart of the establishment.

Women, black people, Hispanics and Muslims voted Trump. The racism, the chauvinism, the testimonies about sexual harassment from the victims and from his own blatant recordings, his bragging about how he made his fortune—all that was not enough for voters to shake off the most controversial presidential candidate in America's history. Step by step, Trump climbed the highest ladder possible, reaching the top of the American dream, the most important position in the world.

If I could, I would ask the American citizen not who should be the one to answer the phone at 3am. I would ask a different question: Would you leave your 13-year-old daughter alone in a room with the new president?

When did the world change so much? And how is it that the vulgar, extrovert man, the reality star who boasts about his gold-coated homes, became the man who will receive the keys to the White House from the most elegant, cool and cultured person who redefined the image of the American president for us? The school of Berlusconi has taken over Washington.

We Israelis, it seems, should not be surprised. We also went to the polls a year and a half ago, and chose to vote for the fourth time for a person who made a racist comment against Israel's Arab citizens on the very same day. A man whose opinions regarding the media and the Arab minority we are well aware of, and whose motto is "divide and rule." Creating conflicts between his ministers, between his party members and between parts of the public. Here too, the Israeli public's hand did not tremble when it favored Benjamin Netanyahu over Isaac Herzog, who was perceived as weak, moderate, conservative and unexciting.

The US elections simply prove what we should have already known, that there is no room for gray candidates in the world. The more blatant, rude, arrogant and uninhibited by political correctness a candidate is, the higher are his chances of reaching the top. People like Herzog, Tzipi Livni, Amir Peretz and Shelly Yachimovich, who are seeking to run for leadership next time, are out. There is no room today for people with political correctness. There is no room today for elegance. Lies, insults, manipulations, racism are no longer bad words. When you come to the people, take a whip with you – that's the conclusion from the US election results. An honest, fair race is the old world. The more control the candidate has over the media's agenda, the more secure is his victory. And any way of getting there is legitimate.

We should already start preparing ourselves for the next elections. They won't look any better than the US elections. Netanyahu is not the only one who knows what the people want. Other candidates are learning the formula as well. In the next elections, Bayit Yehudi leader Naftali Bennett will no longer let the prime minister rob him of his voters. He will put on a cruel fight. In the next elections, Yesh Atid leader Yair Lapid and Kulanu head Moshe Kahlon will implement the lessons as well.

Former Prime Minister and Defense Minister Ehud Barak is already doing that, either on Twitter or on his occasional appearances on the Israeli media. Blatant, direct, insulting his interviewers the way the public likes to see, and shooting sharpened arrows at the prime minister – this is the profile of the next alternative to Netanyahu.

And whoever is incapable of doing that should leave the jungle right now.
Racing trains
For Israel, America turned into a completely different world overnight. All the influence mechanisms it nurtured with the US disappeared at once. While Hillary Clinton obeyed the politics whose rules we are familiar with and know how to play – nothing can stop Trump.

If we take the president-elect's campaign declarations about Israel seriously, it's a joke. No one knows his real opinions. No one knows if he even has any. What we can know is that if he decides to take a stand, nothing will stop him – neither Congress speeches, nor interviews and media appearances, nor AIPAC or the Jewish lobby. All that will not exist. Trump is not committed in any way to the rules we knew.

The new president is basically the first alien. Upon his emergence in the American political sky, all conventional medicine must be restarted. If anyone explains to him, for example, that America's unconditional support for Israel created a rift between the US and the Arab and Muslim world, and that it's time to be tougher and definitely not give Israel the largest security aid ever given to a foreign country – Israel may discover that it has no resistance to Trump's decisions, because he derides everything.

One thing's for sure, and it has already been proven during the elections: The best way to get on his nerves is by outsmarting him, which is something Israel has done often in the past. If Israel tries to take advantage of this period to create facts on the ground, the redhead from the White House will bite our head off. With him it won't be the polite game we've come to expect from the Obama administration.

Today, the US is behind everything. Wherever Israel is unhappy with an international initiative, America is there to crush it. But if the new president thinks the warm support is unreasonable and not always right, there could be a dramatic change here.

Contrary to what Knesset member Bezalel Smotrich and Deputy Foreign Minister Tzipi Hotovely think, Trump is not going to be a friend of the settlements. I doubt he even knew where Israel was before the elections. Unlike Clinton, he will find it difficult to locate Ofra and Beit El on the map. If it is explained to him in an internal discussion why the settlements are an obstacle to peace and how the Israeli-Palestinian conflict became the first shock factor, his stance may be very different from what the Right expects.

Netanyahu knows that. He knows that he doesn't know: He doesn't know a thing about the new president's stand regarding Israel. If Trump's stand turns out to match the government's stand – in other words, doing nothing and continuing with the current situation – it will be excellent for Netanyahu. But if it turns out that the president thinks differently, Israel will face difficult times.

Despite the concerns, nothing significant will happen in the short time Obama has left in the White House. There may be declarative moves, like the two-state vision, but the outgoing president will not make any significant play. First of all, because it's impolite and Obama is a civilized person. He won't impose any moves on his successor. But it's possible that if a French initiative is submitted to the United Nations, the outgoing president won't make an effort to block it. Israel should be concerned about a European initiative right now, not an American one.

So the Right's joy over Trump's election is slightly premature. And Naftali Bennett's response is a bit too enthusiastic. There is a historical opportunity here, Bennett told me a day after Trump's victory. The fate of Judea and Samaria for the past 50 years, he explained, is subject to a paradigm of the Palestinian state, and even more so since the Oslo Agreements. There are now almost half a million Jews in Judea and Samaria. A third generation has already been born there. Until now, they have been second-class citizens. Yes, yes, second-class citizens compared to me and you. We tried the Oslo path for 23 years. It's not working. But the world is pressuring us. There is now an opportunity of a new American president, whose platform and speeches include no support for a Palestinian state.

And there is another rule, Education Minister Bennett says: An American president will never be more hawkish than we are. So in the window of time that has been created until the administration's policy is sharply renewed, we must voice our stance and discontinue the line of Netanyahu's Bar-Ilan speech, and the construction freeze in Jerusalem and in Judea and Samaria. This is our opportunity to pull the president-elect in our direction as much as we can.

Bennett is not stagnating. On Sunday, he submitted the "Regulation Bill" to the Ministerial Committee on Legislation – "the normalization bill," as he calls it. Many ministers will support it, he says, and he expects it to pass a second and third reading. The normalization bill, according to the Bayit Yehudi leader, is supposed to clear the status of residents living on unregulated lands. Until now, they were unable to open a balcony or receive a mortgage. The law will make sure that the set of rules which apply to Israel's land laws will apply there as well.

The idea behind this law is that if the state encouraged the establishment of a community and it turns out that these were unregulated privately-owned lands, the residents would be able to keep living there with all rights, and the land's owner would receive compensation through alternative land or money.

The Amona clause is being added to this bill, so although there is a peremptory High Court ruling that the outpost must be evacuated, the "Regulation Bill" would apply there as well. It should be noted that the "Regulation Bill" was initially created as a leverage for the regulation of Amona. Bennett wanted to stimulate the system, so he advanced a legislation proposal that the prime minister didn't like so that Netanyahu would find other solutions for settlements which have areas that were built on privately-owned Palestinian lands. But due to foot-dragging, the bill – which was just a way to pressure Netanyahu – turned into the objective, as far as Bennett is concerned.

The education minister believes it will pass. Almost all Likud and Bayit Yehudi ministers support it. There is a deep perceptual change here, Bennett says. A move from the Oslo paradigm to a paradigm of an autonomy for the Palestinians and applying Israeli sovereignty in Judea and Samaria. The bill would move half a million Israelis and 70,000 Palestinians into the State of Israel. You take a controversial place like Ma'ale Adumim—with tens of thousands of settlers—Gush Etzion, Ofra and Ariel – and apply bill to them.

If we don't do it, says Bennett, it won't happen. We'll be stuck in the same places we've been stuck in. This is an opportunity for a big change. We must regulate the Judea and Samaria settlement enterprise, normalize it.

We have in a window of time during which the policy of the new American administration would be shaped, he says. We must not be passive. We must say once and for all what we want. And he has a vision: An autonomy for the Palestinians in their territories—for them to run their lives—and Israeli sovereignty in Areas C. What Prime Minister Menachem Begin did in the Golan Heights and Prime Minister Levi Eshkol did in Jerusalem, he will do in Judea and Samaria. It's time to move on, not to be passive and not to continue on the same old tracks.

So there is no wonder that Netanyahu asked Bennett and Justice Minister Ayelet Shaked to postpone the vote on the "Regulation Bill." The Bayit Yehudi leader is forgetting just one thing: That on those old tracks, there is another train racing towards us: on board are the Palestinians, Arab states, Iran. I'm not sure Trump will want to be on a collision course with that train.