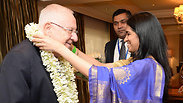 President Rivlin arrives in India
Photo: Mark Neiman, GPO
President Rivlin arrives in India for state visit
During the visit, Rivlin will meet with his Indian counterpart President Mukherjee as well as Prime Minister Modi and other officials in an effort to promote bilateral cooperation between the two nations, particularly in the fields of defense, agriculture and water.
President Reuven Rivlin and his wife landed in India on Monday morning for a state visit at the invitation of Indian President Pranab Mukherjee as the two nations seek to advance their bilateral cooperation.

During the visit, President Rivlin will join President Mukherjee in opening an agro-tech conference in the city of Chandigarh, hold meetings with Indian Prime Minister Narendra Modi, External Affairs Minister Sushma Swaraj, and visit several sites of cooperation and joint projects between the two countries.

He will also pay his respects at the sites of the 2008 Mumbai terror attacks, and lay wreaths on the tomb of Mahatma Gandhi, and at the memorial for Indian soldiers who fell in the First World War in combat in the land of Israel and the Middle East. Rivlin will also hold meetings with senior Indian officials, and with leaders of the Jewish community.



Before departing, the Israeli president described India as "an important ally and close friend of Israel, a state with whom we have much in common."

"Israel and India are both countries of innovation and of inspiration. Countries that have ancient traditions, but have built strong and thriving hi-tech economies, and now celebrate 25 years of diplomatic relations," he added.

"This visit is a sign of the strong relations and friendship between our peoples, and I hope will plant the seeds for that friendship to grow closer and closer," the president concluded.

Rivlin will begin his visit on Tuesday with an official state welcome including an honor guard, after which he will meet with President Mukherjee. Later, he will lay a wreath at the tomb of Mahatma Gandhi, and meet with Prime Minister Modi.

Rivlin is joined on his visit by a large delegation including some 40 Israeli companies from the defense, agriculture and water industries, as well as 15 senior Israeli academics.

Heading the business delegation is Shraga Brosh, the president of the Manufacturers Association of Israel. "India represents a great challenge for Israeli manufacturers and this delegation will afford the opportunity to strengthen cooperation and partnership with their Indian counterparts. I have no doubt that this will be a fruitful visit and forge long-lasting economic partnerships which will strengthen and help grow the bilateral trade between the countries," he said.