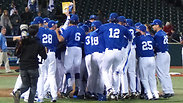 Team Israel
Photo: Margo Sugarman
Mensch on the bench: Israel to play in World Baseball Classic
For the first time ever, Israel will play in the 2017 World Baseball Classic after defeating the United Kingdom in September; with players and coaches from the MLB, Israel looks to make a run in the tournament while raising awareness of baseball in Israel.
Following a 9-1 victory over the United Kingdom in September, Israel, for the first time in history, will play in the World Baseball Classic alongside traditional baseball giants such as the United States, Japan, Cuba and the defending champions, the Dominican Republic.

Wearing kippot (skullcaps) and standing for the "Hatikvah" (the Israeli national anthem), the scene certainly looked Jewish, but not entirely Israeli.

The team is composed of Jewish professional players who are happy to have the opportunity to play for a country which has a difficult time developing the baseball industry. Israel certainly wouldn't have made it as far as it did if it only fielded blue and white players.

So how is this situation possible? The World Baseball Organization allows what is dubbed the "Heritage Act," which stipulates that any players who are eligible for citizenship of another country, even if they do not possess it, may play for that team.

As the President of the Israel Association of Baseball, Peter Kurz points out, players who are Jewish or are married to Jews are eligible for citizenship under the Israeli Law of Return. According to Kurz, "When I find a player, I need to prove that he is eligible for Israeli citizenship. I need to make contact with him and with his family to get things such as records of circumcision or a Bar Mitzvah for example."

The Israeli team boasts 20 professional players, with big names such as 2009 All-Star pitcher and New York native Jason Marquis, former Mets infielders Ike Davis and Josh Satin, Craig Breslow and catcher Ryan Lavarnway. However, according to Kurz, Weinstein and his scouts have marked several other players who weren't available to play sooner to join the team and turn Israel into a more threatening force. Kurz claims that Ryan Braun, Joc Pederson and Ian Kinsler have all been approached and are considering the proposal.

Lavarnway, the 29 year-old catcher who has played for the Boston Red Sox, the Baltimore Orioles and the Atlanta Braves, was born to a Jewish mother and a Catholic father. Despite not having a Bar Mitzvah, Lavarnway said that he began to connect with his Jewish roots in High School. "At the time, I felt spiritually attracted and I began to attend synagogue. Today, my wife and I live in Denver and go to synagogue regularly and live a Jewish lifestyle. We are proud members of the Jewish community in the city."

As to whether or not Lavarnway has ever visited Israel, he responded, "No, but I hope to soon. During the qualifiers I felt immense pride with the word 'Israel' on my chest. As a Jew, I feel a spiritual connection to Israel. Every player on the roster has a connection to Judaism and that connection connects all of us. We all see the chance to represent Israel as an honor and personal duty. I was very happy when they came to me."

Jerry Weinstein, the coach of the Colorado Rockies who manages the team, turned to Lavarnway. "Israel is very important to me. For a year I recruited players with four great scouts and Peter Kurz. It wasn't easy to bring everyone, because some of them were tired after a long season and others didn't get permission from their teams," said Weinstein.

As for baseball in Israel, both Lavarnway and Weinstein hope that success will lead to a change in attitude. "I know how important this sport has been to my life and one of our goals is to increase awareness in Israel and get people excited and wanting to watch it. Hopefully we can raise money for fields and development."

In terms of future plans for development, efforts by the JNF, which assists the Israel Association of Baseball, and organizations abroad have led to donations and joint projects. Beit Shemesh has already approved a project to build a baseball field at a cost of NIS 3 million to begin next year. A similar project in Raanana is also taking shape.

Kurz says that currently there are a thousand children and adults who play baseball in Israel and the number of native-born Israelis is roughly equal to the number of the foreign-born players.