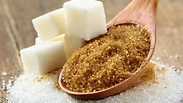 Too much sugar can endanger one's health. (Archive photo)
Photo: Shutterstock
According to a new report by the Organization for Economic Cooperation and Development (OECD), Israel is the world's top per-capita consumer of sugar. The report states that Israelis take in an average of 170 grams of sugar per person per day; Malaysia comes in second at 160 grams, then Brazil (155 grams), and the United States (142 grams).

The figures show that Israel places second in the percentage of its calories that come from sugars: About 16 percent.




According to the World Health Organization (WHO), a person's daily sugar intake shouldn't exceed about 8 spoons, or 32 grams for men, and six spoons , or 24 grams, for women. Excessive sugar consumption can lead to dizziness, headaches, addiction, damadge to the pancreas, high cholesterol, obesity, and diabetes, among other disorders.

Last week, newspaper Yedioth Ahronoth wrote about an initiative that would require marking unhealthy food products as such. Many if not most of these would likely be processed foodstuffs – which often have a high sugar content.

Minister of Health Yaakov Litzman responded, saying, "These are very concerning figures that demand taking drastic measures out of public responsibility. The regulation committee in food matters is, these days, working on finding implementable and effective solutions. The Ministry of Health is determined to wipe out the phenomena and bring a dramatic change in sugar consumption in order to preserve public health and prevent disease."