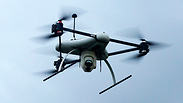 Minister causes stir after giving Russian PM a drone
After Prime Minister Dmitry Medvedev showed interest during his visit to Israel in a drone worth 200,000 shekels used for agricultural research in the Volcani Center, Agricultural Minister Uri Ariel decides to give him it as a present; 'this has caused damage to our research.'
Serious anger erupted at the Agricultural Research Organization, Volcani Center after it emerged that Minister of Agriculture Uri Ariel gave Russian Prime Minister Dmitry Medvedev a drone worth 200,000 shekels which is being used by the institute's researchers.

During his visit to Israel last week, Medvedev conducted a tour of the institute where he was shown a number of agricultural developments and projects on which the researchers have been working.

One of the items shown to the Russian premier was a drone used for irrigation research purposes. 'Calcalist,' Yedioth Ahronoth's finance paper, published on Monday that Ariel noticed the great interest Medvedev had shown in this specific drone and therefore approached his chief of staff to request that it be given to Medvedev as a gift.

People from the institute, who realized that they were about to lose a vital asset for their research, tried to prevent gesture but were unsuccessful.

The drone, which has undergone special enhancement and is equipped with unique technology, not to mention its significant financial worth to the State of Israel, has now been handed over to the Russians.

Moshe Reuveni, a representative from the institute, was appalled by Ariel's gesture: "Transferring the device that was used by the Volcani Center for agricultural research projects that are currently being developed, constitutes a total ignoring of all administrative procedures and all rules and laws for senior visits," he said.

"Aside from all damage caused by giving a device that is estimated to cost hundreds of thousands of shekels and the damage to our image, there is also obvious damage which has frozen agricultural research."

Uriel's government office released a statement refuting the notion that it constituted irresponsibility on his part. "The drone was given to the delegation with the permission of professional officials. The Ministry of Agriculture will soon purchase another drone for the benefit of the research activities."

Regardless of the defense offered, the alleged blunder has further inflamed relations between Uriel and workers of the institute which became tense after his decision to move it to the north of Israel. Indeed, his announcement sparked a protest by the workers.