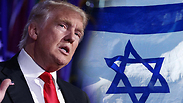 Donald Trump. 'He was personally offended and felt he had been exploited'
Trump's failed business affair with Israel
A Ramat Gan tower which would have become 'the tallest building in the Middle East,' a luxury hotel in Netanya and a golf course in Ashkelon are only some of the Israeli projects that were supposed to bear the US president-elect's name. Although they all remained on paper, the Trumps are not giving up. 'We are very interested in Israel,' says Trump's daughter Ivanka, promising to keep pursuing real estate deals in the Jewish state.
If everything had gone as Donald Trump planned for us about 10 years ago, we would have already been able to look up at what would've been the tallest skyscraper in Israel—and in the Middle East. A 70-floor gold-coated residential and office building, with a crown at the top and an illuminated sign with the word "Trump," was supposed to be built on the ruins of the Elite chocolate factory in Ramat Gan.

"Donald Trump told me he had a dream to change Tel Aviv's skyline," says international architecture Sami Tito, who was put in charge of planning the luxury "Trump Plaza Tower" at the Elite compound.

As part of the preparations for the project, Tito was sent to visit Trump's apartment building in Las Vegas and bring the Trump splendor to Israel. The specifications included a built-in television in the bathroom mirror, a golden lobby with a doorkeeper, marble columns and smart apartments with remote-control access—a top standard that Israelis were unfamiliar with at the time.

"We hired a designer from New York, who had experience working with Trump," Tito recalls. "We planned to open an innovative marketing office, in which you could choose a floor and an apartment, and see the view you would have during the day and during the night projected from each window. It was supposed to be the most luxurious and elaborate project ever seen in Israel."

Tito was in close contact with Trump and his people via telephone and provided them with different alternatives for the tower, of which Trump chose the most sparkling version with a huge sign bearing his name. Like the Trump World Tower in Manhattan, the Israeli tower was also supposed to be covered in gold. "He wanted with all his heart to have a monument named after him in Israel," Tito says.

Trump, it should be noted, does not build such projects himself. He usually gives his name to real estate projects for marketing purposes in exchange for a percentage of the sales, as he did with the Trump World project in Seoul and Riverside South-Trump Place in New York.

That is also why he was furious when the deal fell through. The Crescent Heights group, owned by Jewish billionaire Sonny Khan, purchased the Elite compound for $44 million. It then saw the potential in the name Trump and sold the plot two years later for $80 million to Trump's business rival—Shaya Boymelgreen, at the time the controlling shareholder of the Azorim real estate company, who spoke about building towers under the Four Seasons or W brands.

This demonstrates the value of the Trump brand. The selling price of the plot with Trump's name on it included a quick profit of $36 million. "Trump was personally offended and felt he had been exploited," says an American associate of the US president-elect. He filed a $45 million lawsuit in Manhattan against the compound owners for lost profits and other damages, but the New York Supreme Court rejected the claim.

"We teamed up with a local group here and they appeared very creative," Trump's eldest daughter, Ivanka, told me about the deal's failure. "They presented good plans and there was a lot of excitement, and all our buyers asked us to do something there. (Then) they sold the land for a huge sum, and that was it."

Trump, a known Israel supporter, remained without a tower bearing his name in Israel, and the Moshe Aviv Tower—located opposite the Elite compound—got to hold on to its title as the tallest building in Israel. But during those years, the eager real estate tycoon searched for more and more projects in Israel. He did not visit the country himself, but he spoke to potential investors through video conference, opened his door for them in New York and, according to his associates, dedicated a lot of his time to examining the potential in Israel.
A pretentious project
During that period, Trump showed a lot of interest in Netanya's developing Riviera. A hotel bearing his name was planned near the city's luxurious Ir Yamim neighborhood as part of a major tourism initiative including eight hotels and three resort villages. But this was another deal that remained on paper.

"During a visit to Miami," Netanya Mayor Miriam Feirberg recalls, "I met a man named Michael Dezer, a former Israeli, who was Trump's partner in a hotel in Miami. As usual, I began talking about 'Netanya, Netanya, Netanya,' and he said, 'Why don't we build a hotel there?' He later arrived in Israel on a private plane and showed an interest in buying the Green Beach compound, near Ir Yamim, which was on the market at the time. He later invited me to meet with Trump at his club in Palm Beach. Trump smiled a lot and was very nice to me. He told me, surrounded by people, 'I really want to build a first hotel in Israel on the beach and I would love for it to be in Netanya.' I wanted to advance it very much, but unfortunately the compound was sold to someone else in the end, and they broke off contact."

"Trump wanted a huge and pretentious project in Israel," said one of the people involved in the project, "and anyone who approached him with serious proposals received a positive answer. The problem was that people also expected him to invest, while he was only interested in selling the brand—as many icons in his status do, like architect Philippe Starck's YOO project, which bears his name in exchange for marketing royalties."

After the ideas of building a residential tower and a hotel with his brand name, Trump toyed with the idea of giving his name to a golf park in the city of Ashkelon. The park was slated to include an 18-hole golf course, 650 hotel vacation units, a convention center, a country club and commercial areas. About three years ago, the municipality issued an international bid, and Trump's lawyers wrote to Ashkelon Mayor Benny Vaknin that the business tycoon was looking for golf facilities for investment purposes.

Trump stated in the letter that he was very excited by the plans to establish a golf center of international standards near the Mediterranean Sea "in your beautiful city." He added that he was very fond of the State of Israel and its citizens and believed Israel should be included on the list of communities hosting Trump's golf centers.

"We were excited and immediately turned to the (land) administration," Vaknin says. But the administration kept putting off the bid, and Trump found golf courses in Dubai.
The 'first lady's' visit
Trump's company also opened a branch in the Jewish state eight years ago to try to sell to Israelis apartments in the Trump towers in the US, starting with a luxury tower in Philadelphia. His daughter Ivanka came to Israel to launch the branch, and was immediately wooed by dozens of entrepreneurs. After touring several construction sites, she announced that the company was looking into investing in a luxury residential tower in Jerusalem or Tel Aviv or even establishing a tourist initiative in Eilat under the Trump brand name.

Ivanka, who was 26 at the time and single, stayed at a suite on the 17th floor of the Tel Aviv Hilton Hotel. With the entire Tel Aviv landscape at her feet, and taking a dig at her business rival Paris Hilton, she said to me: "I believe that Tel Aviv deserves a real five-star hotel."

It wasn't easy meeting with her with the dozens of meetings she had scheduled in the three days she spent in Israel. Everyone wanted to pose for a picture with her. Gifts kept flowing in. During our meeting, a bag filled with products arrived for the first lady of the Trump business, with the hope that she would also glance at the attached note. Almost every real estate entrepreneur with a building in Israel was there. No one actually believed that Trump would invest his money here, but they all talked about towers in Israel bearing his name.

At the end of the visit, Ivanka said she barely had time to enjoy herself. "When I fall in love with a place, I know I'll come back, and I fell in love with Israel. I know I'll be back for a real vacation," she concluded.

We asked her if her father wasn't hurting his brand by selling it. "I don't think that's true, because we are very selective," she replied. "At the moment we have 30 beautiful projects around the world, and that's all. Some we build on our own and in some we have partners. Take Dubai, for example. They buy hundreds of thousands of concrete sacks from the local merchants, and we have no way of reaching better agreements because we don't know the local people like they do. But the fact that we have partners doesn't diminish our responsibility for the project and we invest everything in it."

"My father trusts me and my discretion," she said about the free hand Trump had given her in running the business. "There are deals he doesn't intervene in, and there are deals we bring to the company to show and consult. All in all, he gives us a lot of freedom of action, and that's the best thing he could do for our self-confidence. We have to learn, and he gives us both the possibility to make the mistakes and to know, on the other hand, that his door is always open if we have any questions."
Negotiating at a time of war
While the attempts to give the Trump brand name to a tower, a hotel and a golf course fell through, there was one real attempt made at an investment. Not by Donald Trump, but by his Jewish son-in-law Jared Kushner, Ivanka's husband. Kushner, an ardent Zionist, was supposed to purchase the Phoenix Insurance Company from Israeli businessman Yitzhak Tshuva for NIS 1.7 billion after signing a memorandum of understanding in 2014. But this deal fell through too due to difficulties imposed by the Insurance Commissioner over getting a control permit, and due to Kushner's request for a NIS 250 million discount after a feasibility study.

Kushner was very disappointed. "Compared to the regulation in Israel, which raises difficulties, in the US we received all the licenses and the permits for the bank and for an insurance company within six months," he told Ynet's print publication Yedioth Ahronoth. He would have been happy to see the deal realized so that the Trump family would have some connection to the Israeli economy.

Kushner conducted the negotiations for the purchase while Tel Aviv was being attacked with missiles during Operation Protective Edge. "We have small children, and Ivanka didn't like the idea of me being here. As an American who listens to the news every hour and hearing about 90 missiles hitting Israel on a daily basis, she asked me: 'What the hell are you doing?'"

Kushner, whose real estate business is worth $4 billion, says that since the Phoenix deal fell through, he has been receiving numerous offers for collaborations with Israelis in different fields, mainly real estate. But following the Phoenix deal's failure, he is afraid of doing business in Israel, both because of the distance and because of bureaucracy.

Ivanka Trump has her own fashion line, which is said to be worth about $100 million, but has been under attack in recent weeks as part of a consumer boycott under the slogan: "I don't want that name in my closet." It is still unclear how her father's election as president of the United States will affect her business, but the energetic daughter, who won the Top Choice Award for Top Business Woman of the Year in 2012, will remain in charge of the real estate and hotel activity in the Trump group, and may even fill in for her father when he assumes his new position.

Unlike her husband, she is still considering entering the Israeli market. "We have had some attempts in Israel, but we will definitely continue looking into luxury residence and hotels in Israel in the future," she said. "The Trump group is very interested in Israel. We examined a lot of businesses there, and we have a lot of patience. We don't like to jump at a deal. If the right dynamics isn't there, we won't invest just for the sake of investing."