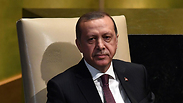 President Recep Tayyip Erdogan
Photo: AFP
Turkish President Recep Tayyip Erdogan announced Kemal Okem as the country's ambassador to Israel on Wednesday. The nomination comes just 24 hours after Israel appointed 53-year-old Eitan Na'eh as the ambassador to Turkey, the first appointment since the reconciliation agreement was signed in June.

Erdogan's declared his new appointment shortly before taking off for a state visit to Pakistan and Uzbekistan. "We are appointing as ambassador to Israel Kemal Okem, our prime minister's foreign affairs adviser," Erdogan told a news conference in Ankara before leaving for Pakistan.

Na'eh has specialized in Turkish affairs during his career and served in Ankara in 1991 as second and then first secretary for political affairs. Currently he serves as deputy ambassador to Britain and has also served as ambassador to Azerbaijan and as a policy advisor in the Prime Minister's Office.