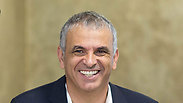 Moshe Kahlon
Photo: Amil Salman
Regulation Bill passes first Knesset reading
After initially announcing that he would vote against the Regulation Bill in its preliminary Knesset reading, Kahlon changed his mind after a meeting with Prime Minister Netanyahu who pledged that he would not advance the legislation any further: Kahlon 'If it harms the High Court at any point I will stop the legislation.'
A preliminary vote of the Regulation Bill seeking to legalize outposts in the West Bank passed by a 58-50 majority in the Knesset on Wednesday afternoon following a protracted political quagmire which has caused serious ruptures within the coalition and attracted international scrutiny.
In a sudden turn of events, Finance Minister Moshe Kahlon (Kulanu) agreed to vote for the bill thereby ensuring its passing despite having earlier insisted that members of his party would not be present for the reading.
Indeed, in a statement issued earlier on Wednesday, Kahlon made it clear that he would not support a law that harms the High Court of Justice, which rejected a request submitted by the government to extend the deadline for the evacuation of Amona on Monday.
Later on however, Prime Minister Benjamin Netanyahu and Kahlon reached an agreement according to which the finance minister would vote in favor of the bill, while in return Netanyahu promised not to push the legislation any further.
"I just finished a meeting with the prime minister which was attended by (Coalition Chairman David Bitan). We agreed that the chairman will announce that there will be no harming of the High Court of Justice and the moment he announces this, Kulanu will support (the bill)," he said on Wednesday afternoon. "If there is any harm brought to the High Court at any point in the legislation, I will stop it."
In accordance with the quid pro quo arrangement, Bitan, one of the chief architects of the proposed bill initiative announced publicly: "As chairman of the coalition I declare that the legislative process will not harm the High Court of Justice."
Shortly after news of the change emerged, officials in Bayit Yehudi claimed that no such agreement had been made with them. "We're not familiar with any agreement except for the passing of the bill."
Kahlon's about-face marked a victory for the coalition which was able to mitigate attempts by the opposition to prevent it from garnering guaranteed support of the bill in advance of the vote.
Indeed, prior to Kahlon's announcement the opposition parties withdrew all of the bill proposals scheduled for a preliminary vote at the Knesset on Wednesday to accelerate the vote on the 'Regulation Bill' in an effort to embarrass the coalition, which was still struggling to secure a majority for the bill's passing.