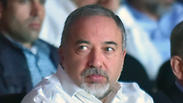 Defense Minister Avigdor Lieberman
Photo: Ariel Hermoni, the Defense Ministry
Lieberman: Trump's team asks Israel to only build within settlement blocs
Defense minister urges to heed purported desires of the US president-elect and not rush to 'set facts on the ground' by building in remote settlements and outposts; an ideal solution, he says, is the new administration adopting understandings reached with Bush in 2005 to recognize the settlements in the main blocs.
Defense Minister Avigdor Lieberman said Wednesday afternoon that US President-elect Donald Trump's close circle has been communicating messages to Jerusalem asking that Israel only builds within the existing settlement blocs in the West Bank.
"We've been receiving official messages from Trump's team. They're expecting us to act modestly," said Lieberman. "There are people in his close circle that we know well, they're telling us 'wait. Don't set facts on the ground.'"
After Trump's presidential win, there were those in the Israeli right who expressed joy over the choice. Education Minister and Bayit Yehudi Leader Naftali Bennett saw this as a "a unique opportunity to reset and rethink everything," adding that "We have to bring alternative new ideas instead of the Palestinian state approach" and citing it as an event that allows Israel to renege on the attempt to allow the founding of a Palestinian state.
While stressing that the messages from Trump's team should not be interpreted as factual statements of intent, Leiberman did voice careful consideration of the supposed request of the man who will lead the United States, and said that the president-elect's close circle expressed their desire to have Israel refrain from overt celebration over Trump's win.
"I hope that we will have enough common sense to stop with the public jubilation. It causes untold damage," Lieberman said before stating his hopes that an agreement could be reached with the incoming administration which would enable continued construction inside the major settlement blocs.


Speaking to reporters, Lieberman said that it is more prudent to wait and see what Trump's administration will look like, before one makes unilateral statements. "Right now we've got a right-wing coalition here in Israel, a Republican president and Republican Congress. It's reasonable to expect us to reach understandings about Middle East policies, including issues pertaining to the settlements and Iran."
"Our top priority now is to reach an agreement with the new (US) administration regarding the Jewish settlement issue," added Lieberman.
The defense minister said an ideal situation would be if the new Trump administration accepts understandings reached between the administration of US president George W. Bush and the government of Israeli prime minister Ariel Sharon. An exchange of letter between Bush and Sharon in 2005 led to an agreement in principle that the US would recognize existing settlement blocs.
"It is an intermediary agreement," said Leiberman. "If we receive further confirmation from the new administration in accordance with the Bush-Sharon agreement, we should wholeheartedly take it on and not build outside the blocs. We should take it step by step, in accordance with the correspondence, not exacerbate matters, not take more on and not diminish from it, either."
"This might not be the right thing to say when considering our electorates, but focusing on building in places where 80 percent of the population is living in settlements instead of building in Nokdim (Lieberman's home town settlement in the West Bank) or settlements outside the blocs would be a positive step," added Lieberman.
The Prime Minister's Office said in response to Lieberman's statements that "Prime Minister Netanyahu will listen to the ministers and then put together a governmental position in response to the new US administration."
Lieberman's remarks also drew mitigated criticism from Foreign Affairs Deputy Minister Tzipi Hotovely (Likud), who wished to put some distance between his stated positions and those of the Israeli government.
"The defense minister's statements on a deal made with President-elect Trump are his alone and do not reflect the position of the government," she said. "As is the custom, the new administration and the Israeli government will begin a communication process upon Trump's entry to the White House. Currently, any limitation on Israel's right to build hinders Israeli interests."