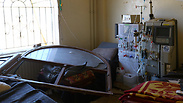 A hospital bombed near the Syrian city of Aleppo
Photo: Reuters
Death toll reportedly at 32 in renewed air strikes on rebel-held east of Aleppo
Syrian government forces pound Aleppo for a second day, as Russia refutes claims it has joined attack; after a blood bank and children's hospital are hit, aid workers claim Syrian government is targeting medical infrastructure.
Air strikes battered neighborhoods around a children's hospital and a blood bank in rebel-held eastern Aleppo on Wednesday in a second day of renewed bombing that has killed at least 32 people, a war monitor, medics and emergency workers all said.

The air raids formed part of a wider military escalation by the Syrian government and allies that include Russia, which fired coordinated volleys of missiles at rebels on Tuesday and for the first time used its only aircraft carrier.



The Syrian Observatory for Human Rights, a Britain-based war monitor, said that Wednesday's air strikes on eastern Aleppo alone killed at least 21 people, including five children and an emergency worker. It added that they were carried out by either Russian or Syrian warplanes.

The local Civil Defense rescue group, also known as White Helmets, reported that 11 civilians were killed in the Sukkari neighborhood on Wednesday alone. Survivors described the horrific assault and videos posted on social media showed rescuers working through the afternoon to pull victims from the rubble of bombed buildings.

The Observatory said districts struck included al-Shaar, al-Sukkari, al-Sakhour and Karam al-Beik.

Moscow has denied reports that its jets hit the city in the renewed wave of bombardment, and said it was sticking to a moratorium on air strikes in Aleppo.

Tuesday's bombing run on eastern Aleppo appeared to mark the end of a pause inside the city declared by Russia on October 18, which Syria's military had also largely observed.

The Observatory and residents said the city's east was hit by rockets fired from jets, barrel bombs dropped from helicopters and artillery from government forces.

"The helicopters won't stop for a single moment," Bebars Mishal, a civil defense worker in rebel-held Aleppo, told Reuters. "Right now, the bombing won't let up."

The Civil Defense is a volunteer rescue service that operates in rebel-controlled areas of Syria, including Aleppo, the country's largest city and commercial hub before the war.

Wednesday's bombing struck next to a children's hospital and blood bank in the Shaar district, and near a school in the Salah al-Din district, residents and the Observatory said.

Two ambulances were also destroyed, said an advocacy officer at the Syrian American Medical Society aid group, citing reports from colleagues in Aleppo.

Adham Sahloul of the Syrian American Medical Society, which supports several hospitals in opposition areas in Syria, said it appeared the government was focusing its fire on Aleppo's medical infrastructure. There are only five functioning trauma facilities left in eastern Aleppo, he said.

The Independent Doctors Association, which supports several facilities in Syria, said eastern Aleppo's central blood bank was struck in Wednesday's attacks, as well as a children's hospital supported by the association.

"Me and my staff and all the patients are sitting in one room in the basement right now," a pediatrician who identified himself only as Dr. Hatem posted in a note that was cited by the association. "We will try to get out when the airstrikes leave our sky. Pray for us please."

The UN estimates that pro-government forces have trapped some 275,000 people in Aleppo's eastern quarters in a strict blockade enforced since August, as ground and air forces meanwhile pound the area's hospitals. The UN warned last week that food rations inside Aleppo's rebel-held districts could be depleted this week.

"We woke up to the bombing and until now, the warplanes and helicopters are running," said Modar Shekho, a nurse in eastern Aleppo. "The Shaar neighborhood was burned down between yesterday and today."

A video posted by Shekho on a social networking site, which he said was taken on Wednesday, showed a building with large holes and burn marks next to a large heap of rubble and twisted metal, which he said was all that remained of another structure.

Ibrahim Abu al-Laith, a Civil Defense official, said there were more than 40 air strikes on the Shaar area. "Today the bombardment is very, very fierce," he said.

On Monday and early Tuesday, there were air strikes on hospitals in three rebel-held towns to the west of Aleppo, knocking them all out of service. Damascus and Moscow both deny targeting hospitals.

The World Health Organization said there had been heavy attacks on five hospitals in Aleppo and Idlib provinces since Sunday, severely reducing access to health services for people in northern Syria.

Syrian state television said on Tuesday the Damascus government's air force took part in strikes against what it called terrorist strongholds in Aleppo's Old City.

Russia said it had struck ISIS and former Nusra Front militant sites elsewhere in Syria, without mentioning Aleppo.

On Tuesday evening, state-owned Ikhabariyah television reported large troop deployments along several main fronts in the Aleppo theatre in preparation for a major ground offensive that it said was imminent and awaiting "zero hour" to begin.

Aleppo has become the pivotal front in Syria's 5-1/2-year war pitting President Bashar al-Assad, supported by Russia, Iran and Shi'ite Muslim militias, against mostly Sunni Muslim rebels including groups backed by Turkey, the United States and Gulf monarchies.

Aleppo has for years been divided between the government-held western sector and rebel-held east, which the Syrian army and its allies besieged during the summer. Its allied forces include Iran's Revolutionary Guards, Lebanon's Hezbollah and Iraqi Shi'ite militias.

Syrian President Bashar al-Assad said in an interview broadcast Tuesday with Portugal's state-run RTP television channel that his forces were fighting to liberate civilians from "terrorists," while most of the rebels in Aleppo, numbering around 8,000 according to the UN, are Syrians who have been fighting to overthrow Assad.

Assad also identified US President-elect Donald Trump as a possible "natural ally," if he turned out to be "genuine" about his commitment to fight terror in Syria.

Trump has indicated he would prioritize defeating ISIS in Syria over regime change, saying the rebels could be "worse" than the sitting president.

Elsewhere in Syria's north, Turkish-backed Syrian opposition forces inched closer to taking the town of al-Bab, about 35 kilometers (22 miles) northeast of Aleppo, from ISIS, Turkish President Recep Tayyip Erdo ğan told reporters on Wednesday.

He said the opposition fighters were about 2 kilometers (1.2 miles) from al-Bab.

"The siege is going according to plan," Erdo ğan said. "There is a resistance there at the moment but I don't think it will last long."

Ankara sent ground forces into northern Syria in August, vowing to clear the border area of both ISIS and Syrian Kurdish militias.

Erdo ğan also said that US-backed Syrian Kurdish fighters—whom Turkey views as terrorists, claiming they are an extension of an outlawed Kurdish insurgent group in Turkey— would soon leave the town of Manbij, in keeping with a purported US promise to Turkey.

More than 300,000 people have been killed in Syria's civil war, now in its sixth year.