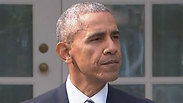 Outgoing US President Obama
Photo: Reuters
Obama mulling support of UN resolution against Israeli settlements
White House official says the outgoing US president is considering a last minute move vis-à-vis the Israeli-Palestinian conflict; 'The two-state solution is dying. There's a de facto annexation,' says official. ' A condemnation of settlements has no bite, and the Israelis know this.'
Two months before leaving office, US President Barack Obama is considering a last minute move vis-à-vis the Israeli-Palestinian conflict, a White House official told American Jewish reporters in a briefing on Tuesday.

Obama is considering several options suggested by his advisors at the National Security Council. One option would be giving the US's support to a UN Security Council resolution against Israeli settlements or on the two-state solution. Alternatively, the outgoing president could settle for only a declarative act, like a speech presenting the main points of his administration's stance on the conflict. A third option would be to do nothing.

The White House official said Obama would inform President-elect Donald Trump before making any such move. "You don't want to present something and a month later see a different president doing the exact opposite," the official said.

According to the official, the Obama administration is concerned with the situation on the ground. "The two-state solution is dying, this trend is not good. There's a de facto annexation. We, the Americans, can only rebuke the sides. We've searched in the dictionary for a thousand different ways to condemn the settlement construction, and it's not helping. A condemnation has no bite, and the Israelis know this. It was actually the Palestinians who listened to us on incitement and hatred."

The official dismissed Trump's promise to move the US Embassy in Israel from Tel Aviv to Jerusalem. "Every four years, we hear this promise," he said. "The new administration will learn the reality on the ground. We'll see if he keeps making that promise even after entering office. We'll see what happens after the king of Jordan calls him about it."

The official also addressed the situation in the Gaza Strip, saying "we are facing a humanitarian crisis. Unlike what happened after past wars, we're not convinced that this time the donating countries will help."

Earlier this week, the Obama administration expressed "deep concern" over the "Regulation Bill," which would retroactively legalize Israeli outposts in the West Bank built on privately-owned Palestinian land.

If the law were enacted, it could pave the way for the legalization of dozens of illegal outposts deep in the West Bank, said State Department spokeswoman Elizabeth Trudeau, adding: "This would represent an unprecedented and troubling step that's inconsistent with prior Israeli legal opinion and also break longstanding policy of not building on private Palestinian land."