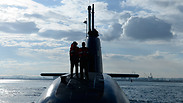 IDF to buy more submarines
Photo: IDF Spokesperson
The IDF Spokesperson's Unit has responded regarding the controversy of the acquisition of new IDF submarines from Germany.

According the press release, "The IDF Spokesperson's Unit would like to clarify that the purchase of the submarines refers to a future purchase of these vessels—a purchase which won't be realized for over a decade. The purchase will be of three new submarines which will replace three of the older submarines currently in service."

The statement continued, saying "the need (for these new submarines) was expressed during a recent cabinet meeting, and there is ongoing discussions on the issue occurring at various levels including at the prime ministerial level, with the minister of defense, in cabinet meetings, and in the National Security Council."

According to details in a report published Tuesday, an Israeli representative of the German shipyard which is supposed to build the submarines together with the German government is an Israeli businessman by the name of Micki Ganor. Additionally, Ganor's lawyer, David Shimron, is a confidant and personal attorney of Prime Minister Benjamin Netanyahu.

Additionally, it has been reported that Shimron and Ganor attempted to move a contract from the Israeli Navy to a private firm set up by the latter. They met with Histadrut labor federation director Avi Nissenkorn, and representatives of IDF employees union to reach an agreement.

"I have never spoken to state officials regarding the privatization of naval shipyards," David Shimron stated. "And I did not deal with state officials on the issue of the acquisition of vessels by the State of Israel. I did meet with the Histadrut federation director and it is true that I thought that if the Navy moves maintenance activities to a private framework, then it is advisable to meet with the Histadrut. I did not discuss these issues ever with the Prime Minister."

The Prime Minister's Office responded, "Prime Minister Netanyahu does not know Ganor nor of any connection between him and Mr. Shimron. Mr. Shimron has never discussed any matter relating to his clients with the prime minister. The only reason a deal was signed with Germany was strategic and economic considerations."

Meanwhile, former Defense Minister Moshe Ya'alon said in a Facebook post that "I was vehemently against enlarging the Israeli Navy's submarine fleet by three additional submarines. The IDF has no use for them - neither operationally, organizationally, or financially – and here definitely won't be a need for them in the near future."

"My position is based on the professional work of the IDF General Staff," he wrote.

"I don't know what was said or what was signed after I left my position as Defense Minister," Ya'alon continued, "but Raviv Droker's publications on the issue are very worrying, and require a comprehensive investigation of the relevant actors…"